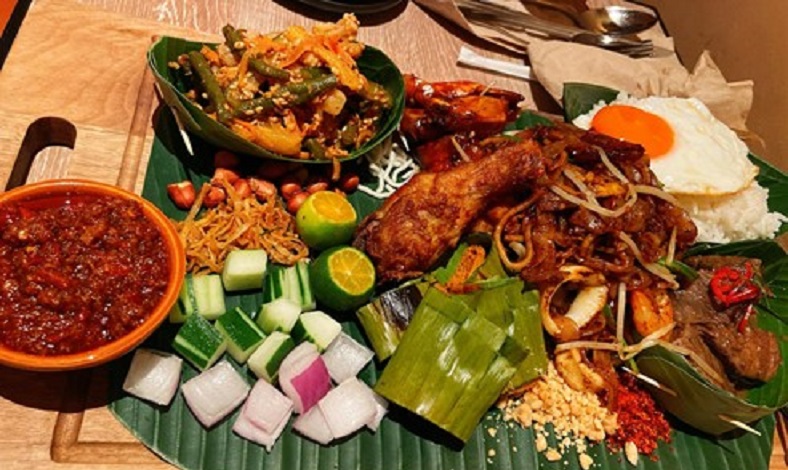 By Alva Ho
To mark the occaision of our new office opening in Singapore, we are taking a look at the pairings that can be created with Singaporean food. In this article, we will take you through several traditional Singapore dishes, including Otah-otah, achar salad, black pepper prawns, beef rendang, char kway teow and nasi lemak and our pairing ideas.
Otah-otah
This is grounded fish paste grilled with banana leaves. As the fish paste blends with a variety of aromatics spices such as garlic, chillies, lemongrass, shallots, it comes with a strong herbal aroma with some spices on the palate. It is good to pair with wines that have a nice fruity finish, such as Brut Tradition De Sousa, and Montlouis Triple Zéro La Taille Aux Loups!
Achar salad
With aromatics ingredients like shallots, ginger, red chillies, turmeric, cloves mixed with cucumber, carrot, cabbage and shrimp, this dish is both exciting and refreshing! It is a charming appetizer. You can pair it with white wines from Burgundy, for example, Bouchard Père et Fils Corton-Charlemagne 2019 or Jadot Puligny-Montrachet Premier Cru La Garenne 2017.
Black pepper prawns
This is one of the dishes that make us hungry every time we think about it! Stir-fried prawns with black pepper sauce, simple ingredients that, when combined, lake for a mouthwatering experience. For a white wine pairing, we recommended a characterful wine with excellent tension such as a 2021 Anjou blanc cuvée from Château De Plaisance; for red, the prawns will go nicely with a bottle of 2004 Domaine Peyre-Rose Coteaux Du Languedoc.
Beef rendang
This is a dish with less spice. The beef is cooked using a slow-cook technique to make a soft juicy texture then served with a relatively mild dry curry paste. It's good to pair with mature Bordeaux or Burgundy wine, for example, Château Giscours 1978, Château Haut Bages Libéral 2000 or Domaine De La Charmaie Nuits Saint-Georges Les Fourchots 2010. Alongside the above wines, beef rendang also serves nicely with simple boiled rice!
Char kway teow
This is a dish of stir-fried rice noodles with nice, chewy texture. Together with the sweet soya source, it was irresistible. A good pairing would be a mature Rhone made from old vines grapes which have charming liquorice and fruity aromas, for example Châteauneuf-Du-Pape Pignan Reynaud, Châteauneuf-Du-Pape Domaine Du Pegaü Cuvée Réservée 2005 from Paul Et Laurence Féraud or André Brunel Châteauneuf-Du-Pape Les Cailloux Cuvée 1990. If you are looking for a white to pair with it, a mature Chenin Blanc such as a Montlouis-sur-Loire Clos aux Renards Singulier Lise et Bertrand Jousset 2012 from the Loire would be a good match.
Nasi lemak
Nasi lemak is a bowl of coconut rice that comes with crispy anchovies, crunchy peanuts, egg and Sambal on the side. To accompany with the sweetness from coconut milk and savoury, spicy flavor from the anchovies, peanuts and Sambal, it is good to serve with Champagne! Such as a bottle of Extra Brut Complantée from Agrapart & Fils, Laherte Frères Ultratradition Extra Brut or Métisse Extra Brut from Olivier Horiot.
Mooncakes
Last but the least, you can also pairing Arbois Vin Jaune Les Bruyères from Stéphane Tissot or Arbois Savagnin 2016 from Jérôme Arnoux with mooncakes. These will complement the sweet-savoury mix when mooncakes are served, for example, with nuts and ham during the upcoming Mid-Autumn Festival.