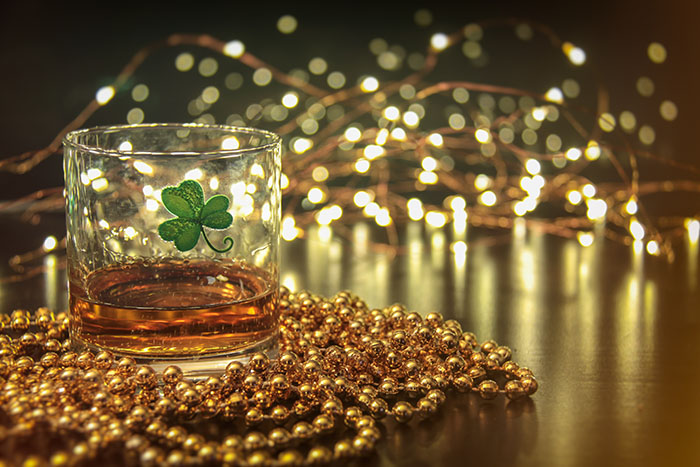 Every year on 17 March, many people around the world celebrate Saint Patrick's Day. To mark the occasion this year, we have updated the selection of Irish whiskeys on our website.
Who was Saint Patrick?
You may think that the patron saint of Ireland would be Irish but, in fact, Saint Patrick came from fifth- century Roman Britain. He was captured by Irish raiders as a child and taken to the Emerald Isle to work as a slave tending sheep. After escaping and returning back to his home country several years later, the faithful Christian received a vision from an angel that he should return to Ireland and convert its inhabitants to Christianity. He listened to this vision and spent the next 30 years travelling around Pagan Ireland spreading the word of Christianity and establishing monasteries and churches.
It is said that St Patrick used the shamrock, a tree-leaf clover, to describe the Holy Trinity in his teachings. And that is why the shamrock later became an emblem of Ireland. Incidentally, blue was the colour originally associated with Saint Patrick but green has become synonymous with the celebration and Ireland itself in present times. Saint Patrick's Day falls on 17 March, the day on which he died in 461 CE and was added to the church's calendar of feast days in 1631.
Saint Patrick's Day today
While Saint Patrick's Day may have begun as a religious celebration for the patron saint of Ireland, its popularity has since spread throughout the world. In fact, the first parade in the United States dedicated to Saint Patrick's Day occurred in 1762, which is over 100 years before the first such parade in Ireland! Today, there are massive annual celebrations in cities like New York, Boston, Chicago, and Dublin. The Saint Patrick's Day celebration in Chicago is particularly famous for dying the city's eponymous river green! The parades in Chicago and New York are the largest in the world, each welcoming around 2 million visitors, and Boston welcomes more visitors for the parade (around 1 million) than its entire population (around 650,000).
Outside of these large cities, perhaps the most unique Saint Patrick's Day celebration is the one which takes place on the small Caribbean Island of Monserrat. Due to the enormous proportion of inhabitants who claim Irish descent, the island is known as the "emerald isle of the Caribbean." In addition to Saint Patrick's Day, 17 March also marks the date of an important slave rebellion which took place on Montserrat in 1768. The two events (Saint Patrick's Day and the rebellion) now form the basis for a 10-day long celebration featuring food, dancing, and traditional costumes. The multi-faceted recognition of this holiday period reflects Monserrat's unique demographic makeup, with many islanders claiming both African and Irish heritage.
Now let's answer the question – what should you drink for the celebration?
Looking to celebrate Ireland's patron saint in style? Look no further than the ultra-rare Middleton Barry Crocket Legacy. This Single Pot Still Irish Whiskey is considered the pinnacle of Irish whiskey, having been named best Single Pot Still Irish Whiskey in the 2016 Irish Whiskey Awards. The lucky consumer of these whiskies can expect aromas of vanilla and toasted oak followed by tastes of light pepper and fresh citrus with hints of cinnamon and vanilla.
From the Waterford distillery, which was founded in 2015 by Mark Reynier, we have the Gaia 1.1. This whiskey has been produced with the same mindset as the great winemakers use to create their wines. The barley selected for this production comes from six biodynamic farms. The whiskey is aged in a mixture of barrels: 42% matures in first-fill bourbon barrels, 17% American new oak, 23% French oak, and 18% former fortified wines barrels. This results in an exceptional nose and palate which has malted barely at the heart of it.
Also from Waterford, the Single Farm Origin Ballymorgan Edition 1.2 was distilled in 2016 from 100% Irish barley grown on a small farm in the south of the country. It's been crafted in a way to reflect its terroir which is full of fine granite and limestone notes.
Finally, if you are looking to celebrate the day by adding a truly worthwhile bottle to your collection, we suggest you go for the Bushmills 32 Years Port Cask 1989. Only 332 bottles of this limited-edition Irish whiskey were ever produced. Having been aged in port wine barrels, this whiskey emanates floral, fruity and spicy aromas. On the palate, you can expect evolutive flavours of salted caramel and chocolate with a malted finish. This product is a true masterpiece.