Gevrey-Chambertin is a village of just over 3,400 residents. It is also one of France's top appellations. Found in Burgundy's Côte de Nuits, between Dijon and Beaune, Gevrey-Chambertin comprises 400 hectares of vines, with nine grands crus and 26 premiers crus in its roster.
Burgundy's oldest vineyards
The vines in Gevrey-Chambertin weren't planted yesterday. In fact, this is the spot where archaeologists uncovered traces of Burgundy's ancient viticulture, with evidence of the craft dating back to the first century BC. Walking through the village, you might well stumble across the 'rue des Vignes Romaines', a road found on the plain since the Romans grew their vines on the flat ground. Since then, planting strategies have evolved, and vines are usually now cultivated on slopes; this is the case across the Côte de Nuits.
Moving forward in time, we arrive at the Middle Ages, a period during which monks played a central role in viticulture. And Burgundy wasn't short of them, with the cathedrals of Cîteaux, Cluny, and Bèze making up the core of regional life. The Clos de Bèze, for example, is one of France's earliest vineyards, first planted by monks at the abbey in the year 630. Religious figures from the very same place baptised the Chapelle-Chambertin appellation in 1155, too, when building a chapel in the 'champ de Bertin'.
As time went on, Gevrey-Chambertin's producers only built on this well-established reputation. It's quite well known (at least among history buffs) that Chambertin was Napoleon I's preferred tipple. Was this just hearsay? Well, not according to his valet Louis-Constant Wairy, who wrote 'the Emperor would drink only Chambertin, though hardly more than a half-bottle' when detailing Napoleon's dining habits. 19th century writer Alexandre Dumas, who most famously penned The Count of Monte Cristo and The Three Musketeers, was also an advocate for the legendary cru, writing that 'nothing gives the future a rosier tint than contemplating it through a glass of Chambertin'. At this time, Chambertin was already the most prestigious bit of land in the village, if not the region, and it was for this that the inhabitants decided to add it to their beloved placename in 1847. This trend was later followed by neighbouring villages: Vosne-Romanée, Chambolle-Musigny, Aloxe-Corton, and Morey-Saint-Denis to mention a few.
Gevrey's prestige, though, meant nothing when faced with the 20th century vineyard disasters. Oidium, mildew, and phylloxera ravaged the country's vines and recovery was long. It was in September 1936 that the Appellations d'Origine Contrôlée were officially created, with Gevrey-Chambertin immediately accepted into the classification.
How can geology explain the local 'climats'?
Here are some key figures about the appellation. Gevrey-Chambertin's vines are planted across 408 hectares, 80 of which are classified as premier cru. There are 26 different 'climats' in all, and the size of the vine-growing area hasn't changed much since 1936. Pinot Noir is the only grape grown there, making Gevrey-Chambertin the largest red village in the Côte d'Or.
The appellation tends to be split into three key areas categorised by their distinct geological features. Separating these are the valleys of Lavaux and Grisard, which shape the landscape in peaks and plains. As is the case across the Côte de Nuits, the soils of Gevrey-Chambertin are a succession of layers – limestone, marl, and clay – intersticed with cracks of varying depths. In short, Gevrey-Chambertin is far from being a homogenous area of vines: it boasts a diverse range of exposures and altitudes, as well as possessing a wealth of micro-climates that make for such richness in its wines.
The first area is found to the north of the appellation. It covers slopes facing to the south, south-east, and east close to the village of Brochon. Between 260 and 380 metres, it has a relatively constant altitude. The soil is rich in marl at the top, limestone mid-slope, and then even deeper marl once more at the base. The ground at the entrance to the Lavaux valley contains many fossils, as well as red and clay-rich soil.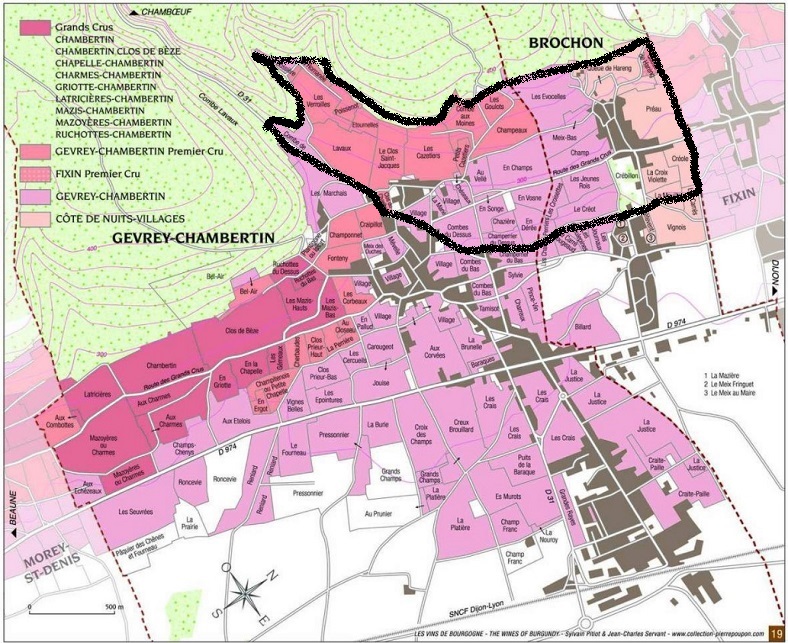 The second area covers the alluvial fan of the Lavaux valley. When this geological phenomenon came about, what remained was soil rich in limestone and clay, as well as hard limestone pebbles. The ground here is particularly light and well-draining, and almost half of the 'village'-labelled wines begin their story here.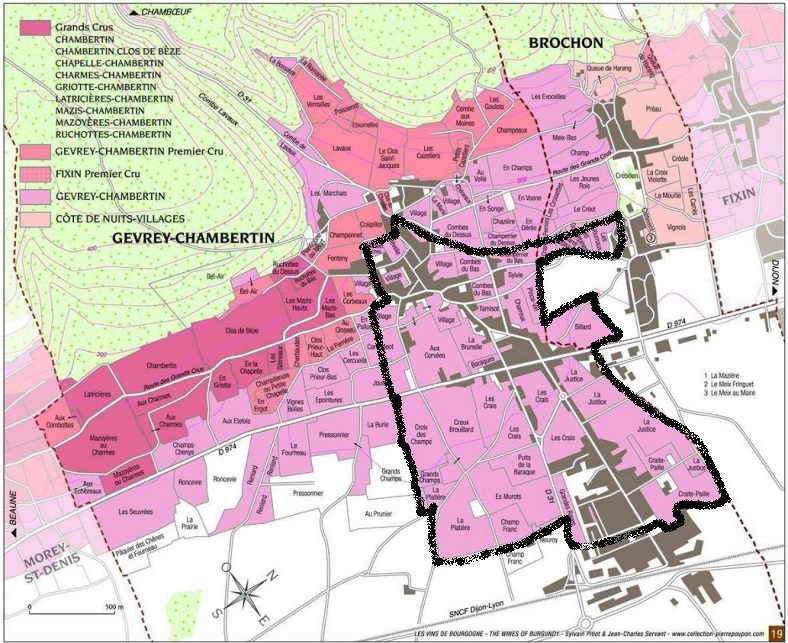 The third and final area is Gevrey-Chambertin's real treasure trove, where we find the appellation's nine grands crus: Chambertin, Chambertin Clos de Bèze, Chapelle-Chambertin, Charmes-Chambertin, Griottes-Chambertin, Latricières-Chambertin, Mazis-Chambertin, Mazoyères-Chambertin, and Ruchottes-Chambertin. This coveted spot begins at the end of the Lavaux valley and takes us to the edge of Morey-Saint-Denis. Soft on the eye, it carries a gentle slope up to 340 metres of altitude to Bel-Air. From top to bottom, the soils are composed of limestone, marl, then clay. The grands crus Latricières-Chambertin and Mazoyères-Chambertin are planted at one end of the Grisard valley, where the soil is rich in pebbly debris. Heading down to the plain, there is even more clay present, and this is where we find more of the 'village' wines.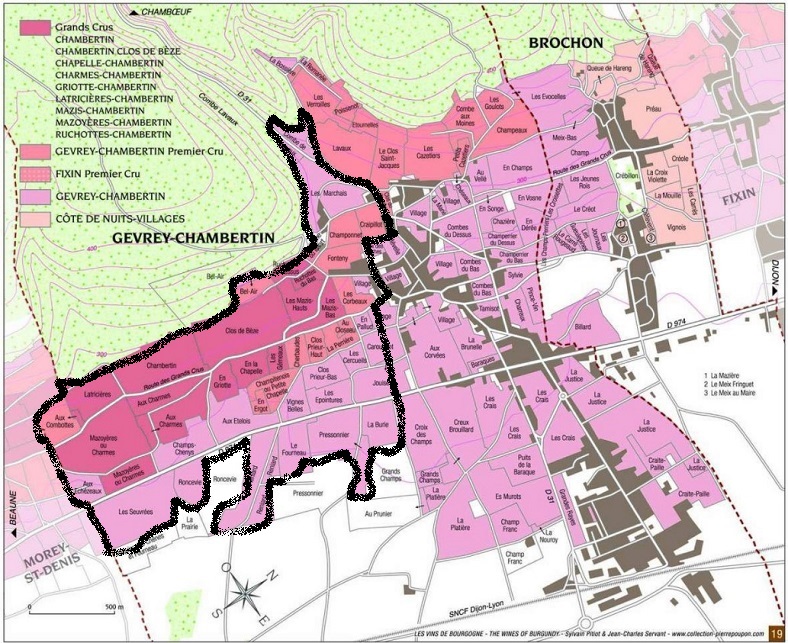 Powerful wines
The wines produced in Gevrey-Chambertin, whether labelled 'village', premier cru, or grand cru, are known and loved for their powerful character and incredible potential for ageing. A bottle from this appellation can often be kept for 10, 15, or even 20 years in the cellar, depending on its original terroir and its vintage. Whilst these Pinot cuvées have remarkable strength (this being due largely to the clay-rich terroir), they don't miss out on being elegant, either. They are also more structured than their neighbours in Morey and Chambolle, for example.
In the glass, they tend to have a bright ruby hue. They carry a nose of red fruit such as cherry and strawberry, as well as floral nuances of violet and rose. As the wine is left to evolve, it might develop notes of liquorice, leather, and earth. On the palate, Gevrey-Chambertin tends to be very structured with ample body and richness. We recommend serving such a wine with red meat or game.
You'll find our selection of Gevrey-Chambertin village and premiers crus here