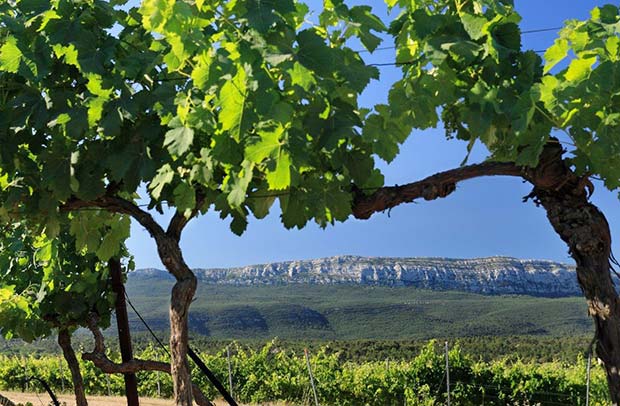 Domaine de Triennes is a recent domain (created in the late 80's), that has encountered success and recognition thanks to the quality of its wines and its unusual grape varieties.
Domaine de Triennes was borne of the common will of two famous Burgundians: Jacques Seysses (founder of Domaine Dujac), and Aubert de Villaine, with a Parisian partner, Michel Macaux.
Located in Nans-Les-Pins (Between Marseille and Draguignan), the property attracted these three friends in search of a vineyard in the South of France. Purchased in 1989, the property was renamed "Triennes" in honor of the triennia, bacchanalia, (the Roman festival of Bacchus) that took place every three years under the Roman Empire.
The domain is south-facing, with a clay-limestone terroir, at 400m of altitude which lends a pleasant temperature range and freshness. The 46-hectare vineyard has some original grape varieties for the region, including Chardonnay, Viognier, Cinsault, Merlot, Cabernet Sauvignon and Syrah. The domain also buys in grapes from neighboring producers to supplement its production. Rémy Laugier has been head of vinification since 1997, and the vineyard gained organic certification in 2014. For us at iDealwine, the wines from Domaine de Triennes are must-haves!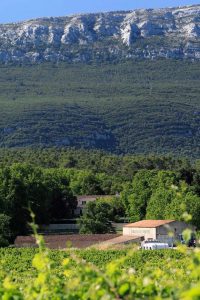 See the wines currently for sale:
IGP Pays du Var (Vin de Pays du Var) Rosé 2015 :
The Triennes rosé is produced from neighbouring vines. It has an attractive pale salmon-pink hue, offering a complex nose with aromas of red-fruit and citrus, evoking an English sweet shop. Harmonious on the palate, it delivers good balance, roundness and drinkability.
IGP Pays du Var (Wine from Pays du Var) St Auguste 2013 :
The « Saint-Auguste » is the first and the most upscale wine of the domain. An enjoyable wine from Provence, especially when accompanying chops with herbs of Provence. Saint-Auguste is a blend of the finest Syrah, Cabernet-Sauvignon and Merlot cuvées. Matured in barrels for around 12 months, it presents an attractive deep purple hue with ruby reflections and a nose opening with dark fruit aromas, spice and a hint of the garrigue. The palate is rich and concentrated with distinct but well-blended tannins and impressive aromatic length.
IGP Pays du Var (Wine from Pays du Var) Sainte Fleur Viognier 2014 (white) :
Made from an aromatic and powerful viognier, which is particularly suitable with oriental food, the cuvée Sainte Fleur Viognier is vinified and aged in stainless steel vats. Delivering intense aromas of yellow and sweet fruits (such as apricot or peach), honey and white flowers such as honeysuckle or acacia flowers. It has an aromatically rich palate with distinct freshness and minerality. Great food pairing versatility, especially good alongside exotic flavours or seafood.
What the guides say about Domaine de Triennes
* La Revue du vin de France:
This domain has made a mark thanks to its technically flawless wines and its daring choices of grape variety, such as a 100% Cinsault rosé. Similarly, Viognier, Merlot, Syrah and Cabernet Sauvignon are expressed beautifully through careful vinifications. Acquired at the end of 1989 by Aubert de Villaine and Jacques Seysses, this property is well located, on south-facing slopes, gently sloping between the Sainte-Baume massif and Mount Aurelien, to the east of Aix en Provence. Le Logis de Nans – which was disused and forgotten by people at the time of purchase – has a clay-limestone terroir, with 46 hectares of vineyards located between 420 and 450 meters above sea level, offering the perfect conditions to produce fresh and accessible wines. The property was renamed "Triennes" in honor of the triennia, bacchanalia, (the Roman festival of Bacchus) that took place every three years under the Roman Empire.
Concerning the wines: the white Saint-Fleur has mastered the varietal exuberance through a touch of minerality. The wine is fresh and accessible thanks to a pleasant level of acidity. The rosé has a spicy profile combined with its complex sweetness, offering real personality. Finally, the red wine characterizes the strength of the domain, thanks to a beautiful ripeness and texture; the wine is concentrated with finesse; it's sappy without being rustic. A beautiful wine.