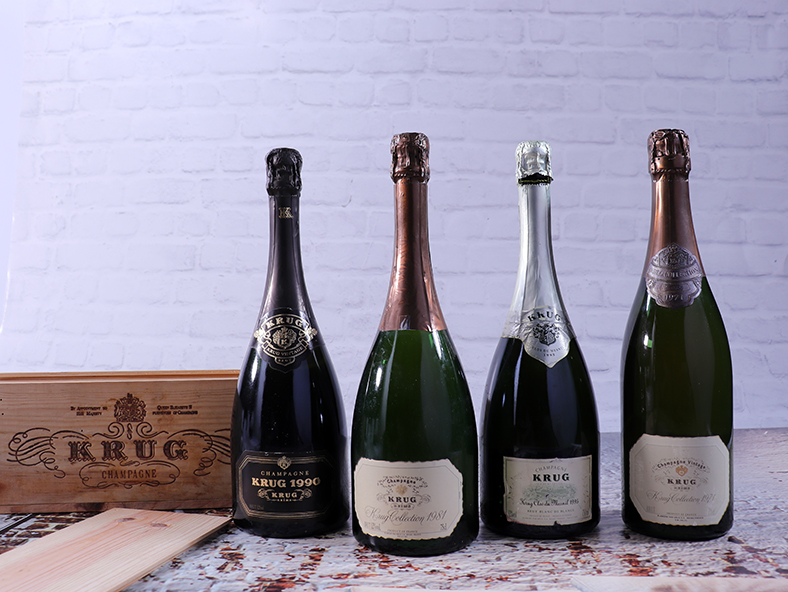 Next up on our tour of top wines is the home of fizz. From prestigious houses and legendary single-parcel cuvées, to vintage champagne and on-trend bottles, this top table covers all of the Champagne region's finest bases.
Scroll down to see the full top 20; we've kept just one cuvée from each estate to give the broadest range of results. Note that the highest bids for champagne tend to come at the end of the year as we approach the festive period, but the results detailed below are still impressive…
Single-parcel cuvées on top
The top three spots have been taken by two prestigious Champagne Houses, Krug and Bollinger, and Domaine Salon. These three champagnes are undoubtedly the most remarkable single-parcel cuvées, each made from a carefully-selected section of vines that cover no more than one hectare. They can also be found in more mature vintages. In fact, the 1979 Clos du Mesnil cuvée from Krug, bought this year for €3,807, also appeared in last year's ranking for a hammer price of €3,561.
Mature vintages coveted
It might be somewhat surprising, but top-end champagne can actually age really well, and this ranking proves that a certain bunch of bubbly lovers are well aware of the fact. Of the 20 highest-priced champagnes of the year so far, 17 are in vintages from before the year 2000. Some of them are over 50 years old, such as Louis Roederer's 1959 Cristal (€946) and Veuve Cliquot's 1949 cuvée (€442). The region's best years are, of course, the most coveted, including collectors' vintages such as the 1979, 1966, 1959, and 1949.
Grand Houses vs Champagne Producers
Champagne houses take up most of the spaces in our top 20, whether they're owned by groups like LMVH and Pernod-Ricard, or still family-run, as is the case for Bollinger, Taittinger, and Roederer. Some of the more renowned producer champagnes feature among the region's top bids, with Selosse, Ulysse Collin, and Cédric Bouchard representing the side in 5th, 8th, and 16th places respectively. These three also craft their wine organically and/or biodynamically, a conversion that doesn't seem to be quite as pressing for many of the grandes maisons.
| | | | |
| --- | --- | --- | --- |
| Position | Colour | Wine | Hammer price |
| 1 | Sparkling white | 1 Bottle Clos du Mesnil Krug 1979 |             €3,807 |
| 2 | Sparkling white | 1 Bottle Champagne Cuvée Brut Salon 1966 |             €3,058 |
| 3 | Sparkling white | 1 Bottle Brut Vieilles Vignes Françaises Bollinger 1990 |             €1,596 |
| 4 | Sparkling white | 1 Bottle Dom Pérignon Oenothèque Moët & Chandon 1976 |             €1,191 |
| 5 | Sparkling white | 1 Bottle Brut Grand Cru Blanc de Blancs Jacques Selosse 1995 |             €1,105 |
| 6 | Sparkling white | 1 Bottle Cristal Louis Roederer 1959 |                €946 |
| 7 | Blanc Effervescent | 1 Bottle Comtes de Champagne Taittinger 1976 |                €663 |
| 8 | Sparkling white | 1 Magnum Blancs de Blancs Extra Brut Les Pierrières Ulysse Collin —- |                €491 |
| 9 | Sparkling white | 1 Bottle Dom Ruinart Ruinart 1976 |            €491 |
| 10 | Sparkling white | 1 Bottle Champagne Armand de Brignac Ace of Spades Blanc de Noirs —- |                €467 |
| 11 | Sparkling white | 1 Magnum Extra Brut Billecart-Salmon —- |                €461 |
| 12 | Sparkling white | 1 Bottle Brut Millésimé Veuve Clicquot Ponsardin 1949 |                €442 |
| 13 | Sparkling rosé | 2 Bottles Cuvée Belle Epoque Perrier Jouët Spéciale Réserve 1982 |                €368 |
| 14 | Sparkling rosé | 1 Bottle Champagne Mumm 1953 |                €368 |
| 15 | Sparkling rosé | 1 Bottle Champagne Piper-Heidsieck Rosé 1962 |                €368 |
| 16 | Sparkling rosé | 3 Bottles Roses de Jeanne Le Creux d'Enfer Cédric Bouchard 2012 |                €338 |
| 17 | Sparkling white | 2 Bottles Cuvée William Deutz Deutz 1985 |                €338 |
| 18 | Sparkling white | 1 Bottle Brut Pommery 1955 |                €319 |
| 19 | Sparkling white | 2 Bottles Brut Grand Cru Egly-Ouriet 1996 |                €307 |
| 20 | Sparkling white | 1 Bottle Clos des Goisses Philipponnat 1996 |                €307 |