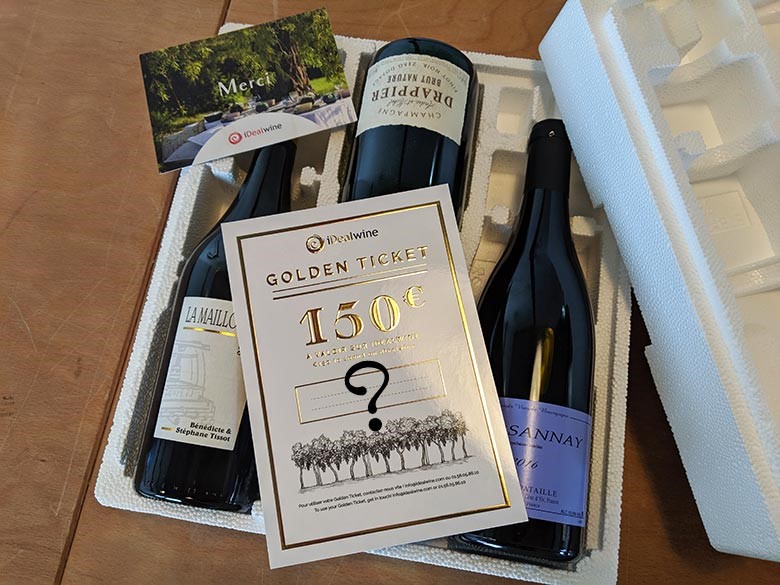 August is the right time to buy wine in our fixed-price sales! Why's that, you might ask? Well, first of all, every week for the next month, we'll be slipping a Golden Ticket worth €150 into your parcels. In addition to that, we are giving away a free ice-bag to all orders including at least two bottles (the minimum needed for a successful aperitif). And last but not least, we will be offering a free map of Corsica's winemaking regions for any order of at least six bottles from our new Mediterranean sale.
Did the team lose their minds what with the rise in temperatures? The month of August promises to be filled with gifts at iDealwine: we explain all below.
Five Golden Tickets up for grabs
In August, a Golden Ticket worth €150 will be won every week. Make sure you get a good look at the the voucher in the picture above: you might find one in your next order of wines purchased at fixed price. Anyone can win: you simply need to order wine from iDealwine's fixed-price sale to be in with a chance.
This voucher is valid without any conditions for the next 12 months. €150! Enough to buy you rosé for the rest of the summer, fine wines from Bordeaux or Burgundy, or myriad gems sourced by our team. The only constraint: the Golden Ticket concerns orders from our fixed-price sales only. The Golden Ticket can, however, be used to pay for any type of order, fixed price or auction.
 Ice-bags to refresh your summer
As you know, the quality of your wines (and the enjoyment you get from drinking them) are our top priority. That's why we're slipping an ice-bag in all fixed-price purchases of at least two bottles during the summer, making it easier for you to take your rosés, whites or sparkling wines to the beach, to your friends' or simply to keep them cool during your meals or summer aperitifs. 😊
And that's not all…
As always, our regional fixed-price sales (Mediterranean at the moment, then Jura-Alsace-Savoie in mid-August) are the opportunity to get a free map of the winemaking region in question (when you order 6 bottles). The map of Corsica's vineyards awaits you. The perfect opportunity to start collecting maps of all the different vineyards.
Don't forget that iDealwine rewards its best customers' loyalty, with our loyalty program. If you're a member of our Club iDeal, you'll receive a voucher worth 5% of your order (applies to wines bought direct from domains); if you're a Privilège customer, the amount is 3%. Quite the summer.
Will you be the first to win a Golden Ticket? Try your luck and order wine at fixed-price!