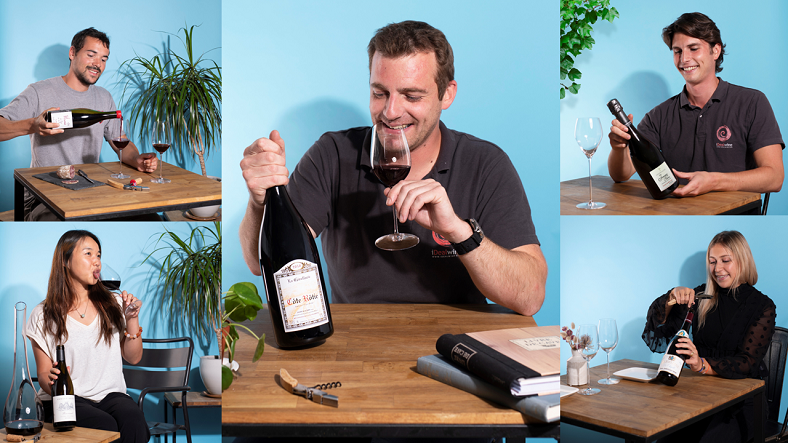 Our team is bursting with wine lovers, and we like to ask them what their current favourites are from time to time. Go on, you can trust our tastes…
Margaux, Sales Admin
"My favourite cuvée from the September selection is Jean-Baptiste Sénat's La Nine, a must-try Languedoc cuvée that never goes out of fashion. It's concentrated, lifted by a vertical freshness and some spicy notes. The Carignan grape dominates, bringing notes of blackberry and cherry. Open for any occasion!"
Sébastien, Communication and Events
Sébastien recommends "Les Quarts" from Domaine de la Soufrandière. He loves its pure aromas and its freshness! One of his big Burgundy favourites, the Bret Brothers bring a biodynamic approach to their six hectares of land. The 2015 vintage is ready to drink and will make for an amazing tasting moment.
Clémentine, Customer Services (Buyers)
"My favourite cuvée here is the Nuits d'Ivresse cuvée by Catherine and Pierre Breton. It really struck me because of the balance between flavour and freshness. It carries the generous character of the Bourgueil terroir, as well as crisp red fruits and a hint of sharpness. I tasted it with a Corsican charcuterie board, and it was delicious."
Nicolas, Customer Services (Sellers)
Nicolas also picked the Nuits d'Ivresse! The perfect cuvée for "enjoying Cabernet Franc again, tasting an easy-drinking red, making most of the last summer aperitifs, and a good balance of freshness and tannin".
Zoé, Marketing Digital
"Anne Gros & Jean-Paul Tollot are two top Burgundians who've combined their talents on the beautiful Minervois terroirs. The 50/50 cuvée is a delicious wine with both fruity and floral aromas. It matured in containers, giving it a nice freshness. It's ideal for a little drink with friends!"
Louis, Sales Admin
Louis recommends the Clos de la Bergerie cuvée from Domaine de la Coulée du Serrant (Nicolas Joly). "As a fan of the Chenin grape, I love Nicolas Joly's unique style; this wine offers notes of candied white fruit with a good dose of acidity and a controlled bitterness on the finish. He's an emblematic figure in the world of Anjou biodynamics, the grapes are sorted three times, and the result is a concentrated and complex wine".
Paul, Head of Supply Chain
"The Chablis premier cru Fourchame from Domaine Dominique Laurent is superb, despite a difficult 2019 vintage with frost, a hot summer, and quite low yields. It carries a nice freshness, perfect balance, and superb length on the palate. It could even be a grand cru!"
Laure, Communication and Events
"I've picked the 2016 Château Haut-Marbuzet; I've never been disappointed by this Saint-Estèphe! For me, it's a must-try, and it ages amazingly well, with some vintages developing truffle notes. I'm not sure if I'll open this 2016 straight away, I know it could wait happily in the cellar. In any case, it'll pair nicely with beef-based dish which will bring out all it's depth and voluptuous character."