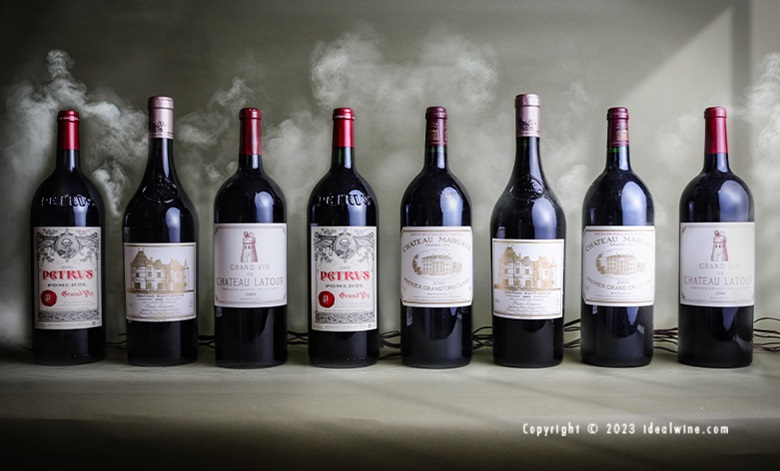 With around 50 auctions organised every year, iDealwine is, without a doubt, a leader in wine auctions (but you already know that). It's thanks to this status that we can offer you absolute treasures in our auction catalogues. And today is no different; we have a private collection from a family who adores fine Bordeaux wines. The superb 1995 and 2000 vintages show off all they've got in these some 700 bottles. Let's take a closer look.
A Bordeaux love story
The family selling these bottles have long adored Bordeaux wines and their prestigious appellations with this love transcending generations. Their 18th century house possesses a cellar that is perfectly suited to welcoming wines in great numbers. Moreover, the installation of a climate controlling unit which maintains the temperature and humidity levels made cellar the perfect home for wine, allowing the family to store the bottles they acquired in 2001. The idea at the time was to solely concentrate on the 2000 vintage.
Nearly 700 bottles in this Private Collection dedicated to Bordeaux
Bordeaux is the sole region represented in this auction and you can travel from one grand cru classé to the next through the many magnums, double magnums and mixed wooden cases. The 70 lots in impeccable condition have reached their peak, yet still retain good ageing potential.
Some examples include Lafite-Rothschild 2000, Cheval-Blanc 2000 and L'Evangile 2000. And if that's not enough, there is also a Carré d'As wooden case of 12 magnums from Petrus, Château Latour, Château Haut-Brion and Château Margaux, all from the 2000 vintage ready to seduce bidders. To round off the auction, we have several mixed cases of 6 or 12 bottles that shouldn't go unnoticed, even less so, the 12 bottles from 2000 released by the famous Château Haut-Brion, Château Margaux, Petrus and Château Latour.
Why invest in the 1995 and 2000 vintages?
Excellent years that many people use as a reference, 1995 and 2000 possess exceptional qualities and are extremely enjoyable to taste. Let's start with 1995. It was a very hot, dry summer that allowed the grapes to reach perfect ripeness. Despite the successful harvest, many of the châteaux decided to sort the grapes in a strict manner, only retaining the very best. The wines are therefore concentrated, dense, smooth, and wonderfully balanced. The family had a soft spot for the Right Bank, Pomerol and Saint-Emilion in particular.
Then moving on to 2000. On top of being the iconic year to kick off the new millennium, the weather conditions were ideal for growing Cabernet Sauvignon. It's these grapes that blossom in these deep, complex, concentrated and extremely long-lasting wines.