Even though a devastating hurricane was unleashing its power on Florida, there was glorious sunshine in New York when we, Angélique and Alix, arrived.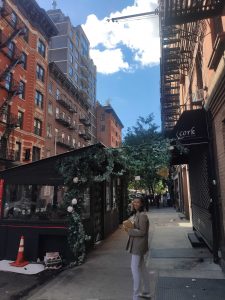 As soon as we got there, we started preparing for our first event. For the very first time, iDealwine was organising an event for its New York clients. It would be a Tour de France of French wine regions taking place in a wonderful venue, The Twenty First Gallery, an art gallery located in Tribeca. It showed us exactly why this neighbourhood is called Little Paris.
We had put together a comprehensive selection of wines that represented different French terroirs for our American clients.
The tasting started with Champagne, more precisely, a Cramant 2015 from Philippe Lancelot. It's entirely made of Chardonnay which comes from a 1.75-hectare plot of vines that are about 40 years old. The cuvée was aged on its lees for 50 months which results in a clean, taut, and elegant Champagne with the perfect balance between its creamy texture and saline finish.
We followed that with a Pouilly-Fumé Barre à Mine 2020 by Michel Redde. This wine truly reflects its terroir; it is full of flint aromas and a pure, acute minerality. A remarkable example of Sauvignon Blanc from the Loire.
From further east, we tried an Arbois En Chemenot 2019 created by the duo Croix & Courbet. It's a ouillé (topped up) Savagnin that possesses hints of something that is almost reminiscent of Burgundy. The En Chemenot plot is located just behind the hamlet of La Pinte on a north-facing slope with marl soil. The supple texture and sharp acidity in this wine are beautifully balanced.
The final white wine we sampled came from the less well-known region of Savoie. We chose a cuvée from Domaine Chevillard which shines the spotlight on a local variety, Roussette de Savoie. It's the perfect weapon if you want to prove that Savoie doesn't just produce wines for raclette but that it is also capable of creating beautiful wines for all occasions and dishes. Full of life, well balanced with slightly bitter notes in the finish, this wine was THE discovery of the evening for our clients.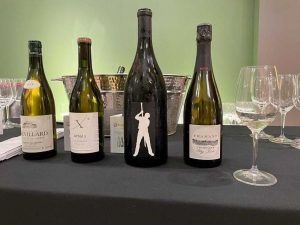 Now on to the reds. Three wines from three symbolic French wine regions ‒ Burgundy, Bordeaux, and the Rhône. The three very different wines offered a coherent tasting experience as they all have a certain freshness about them and showcase their specific terroirs.
The Aloxe-Corton Premier Cru Les Paulands 2020 from Maison Chanterêves is just as well-known as the micro-trader, which quickly made a name for itself. Guillaume Bott and Tomoko Kuriyama created a brilliant red with notes of cherries, mint, and undergrowth.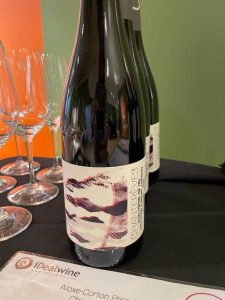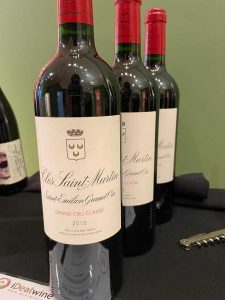 Saint-Emilion was represented by the Clos-Saint-Martin 2015. This tiny, one-hectare sized domain is a gem waiting to be discovered and one of our most recent partner domains. When tasting this wine, the expression "an iron hand in a velvet glove" will spring to mind. There's an explosion of red fruits and floral notes with a delicate, silky texture.
The Côte-Rôtie Cordeloux 2017 by Marie and Pierre Bénetière brought our tasting event to a close. Made from whole bunches, this wine spent 18 to 22 months ageing in barrels and possesses an impressive freshness. It's a spicy Syrah with completely pure and delicate fruit flavours.
The tasting event gave us a chance to present these excellent wines, but it also allowed us to meet our American clients for the very first time. It was a pleasure meeting them and seeing their enthusiasm and love of wine.
Our second event in New York consisted of an exceptional dinner with our partner Levi Dalton, who creates the I'll drink to that podcast. If you don't already know this English-language podcast, you have been warned; it's highly addictive for wine aficionados! Each episode is an interview offering a unique opportunity to listen to the greatest winemakers from around the globe explain their philosophy, methods, and more.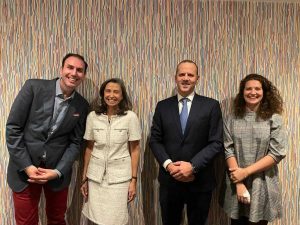 This dinner took place at Eleven Madison Park, a three-star restaurant which was crowned the Best Restaurant in the World in 2017. The chef Daniel Humm has recently taken a radical turn. He has changed his whole menu and it now only contains vegan dishes. A daring gamble but a successful one in our humble opinion.
For the first wine of the evening, we travelled to Champagne and enjoyed Cédric Bouchard's Roses-de-Jeanne Le-Creux-de-L'Enfer 2017. The rise of this micro-domain in our auctions has been impressive. Cédric Bouchard's principle is "one parcel, one variety, one harvest". Therefore, some cuvées are only produced in very limited quantities and only 200 bottles of this rosé exist. It contains an explosion of red fruits, structured by fine tannins and a beautiful acidity.
From Saumur, we tried La-Charpentrie 2016 from Domaine du Collier. Antoine Foucault's connection to Clos Rougeard is evident; this Chenin from the famous slope of Brézé is a delicacy which combines purity, depth, and concentrated aromas.
We followed this with the iconic Chablis Grand Cru Valmur 2012 from Raveneau. A name full of promise for a magnificent tasting experience as the wine unites finesse and intensity.
Then, we moved on to the red wines. We stayed in Burgundy and sampled the Vosne-Romanée Premier Les Chaumes 2017 from Arnoux-Lachaux. And this was, without a doubt, the showstopper of the night.
Moving to the Rhône next, we had Gonon's Saint-Joseph 2010 which is a blend of three different terroirs. The grapes were partially destemmed at harvest before undergoing gentle extraction. This is a completely balanced wine, very smooth, and with fruity, floral, smoky, and spiced notes.
We then had to grab our passports as we headed to Italy and tasted the Barbaresco Crichët Pajé 2013 from Roagna. This mythical cuvée comes from an historic Piedmont domain. The Nebbiolo has an outstanding delicacy and a nose that gradually reveals all its complexity.
And we finished our dinner with a blind tasting of Crème-de-Tête 1971 from Château Gilette. A true mystery for our guests who could no doubt name all the sweet wine appellations in the world. This Sauternes stands out by the fact that it was matured in cement vats for more than fifteen years ‒ something unheard of in this appellation.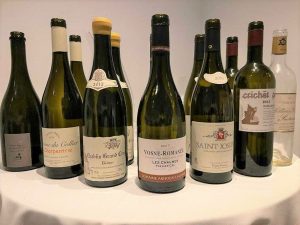 We will conclude this lovely travel journal with a reminder that iDealwine delivers to the United States. Delivery is €120 for 12 bottles and when you select the USA as the country of delivery, no French taxes will be added to your order. However, local taxes will apply once the delivery arrives stateside.