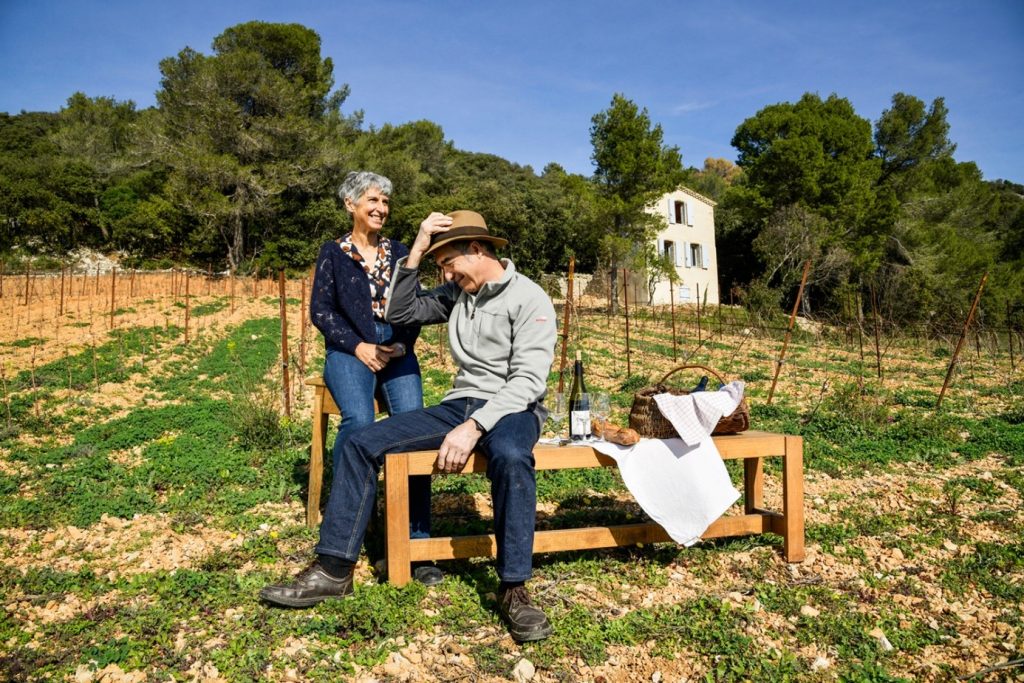 From the sleepy southern village of Aniane, Jean-Pierre and Isabelle Venture craft some of the highest-quality wines on the Terrasses du Larzac. Vinified by parcel and by grape variety, these cuvées present a portrait of the local terroir and its capabilities; a landmark estate for this quintessential Languedoc appellation.
Heading out of Montpellier to the north west, you'll reach Aniane, where we find Mas de la Seranne. The wine estate owes its name to the range of hills in the area, and it's run by a pair whose passion for the vine led them back to their native region in 1998. Jean-Pierre started out in the agronomy sector, but extra training in viticulture and oenology gave him a push in a new direction. La Seranne, which overlooks the Montpellier coast, is a spot that lends itself well to viticulture, hence becoming the destination of choice for these budding wine growers. And they've had their heart in the region and its potential from day one; Jean-Pierre even went on to become president of the Terrasses du Larzac appellation, a role he held for nine years! You're unlikely to find a more dedicated ambassador for the region and its gorgeous terroirs.
Talking of terroir, there are three different types at Mas de la Seranne: yellow marl (with sand, limestone, and clay soil), the Hérault terrasses (stones and 40% red clay), and fluvio-glacial gravel…A rich variety of which our vintners are very proud, allowing them to vinify cuvées with the AOP Terrasses du Larzac and IGP Saint Guilhem le Désert labels.
What comes through from the terroir to the glass is a character that's complex and aromatic yet retaining a pleasant freshness. The location of the vineyards means that, during the day, the vines enjoy high temperatures that lead to excellent ripeness and noble acidity. The variety of grapes also plays an important part in the final complexity of the wines, with Grenache, Mourvèdre, and Syrah grown by the domain alongside Carignan and Cinsault, two types that bring an extra layer of nuance to the classic Languedoc blends.
In just 20 years (a relatively small timespan in the world of winemaking), Mas de la Seranne has more than proven itself, arguably leading the way for Terrasses du Larzac and its reputation. Not one to rest on his laurels, though, Jean-Pierre has been spending time on his experimental parcels. A sign of his conscientious approach, he's trying out different grapes that will one day replace or supplement vines no longer suitable for the changing climate.
Given the couple's love for this land of theirs, a conversion to organic viticulture was only natural, and ten years ago they obtained their official AB certificate. Some might say this move towards lower intervention and the avoidance of chemicals, bolstered by a biodynamic-inspired practice, has made these wines more 'authentic', more genuine in their expression of the Terrasses du Larzac. We even get into some of the stranger side of alternative winemaking, as the tilling, pruning, planting and bottling at Mas de la Seranne are organised according to the lunar calendar. Impossible to argue that Jean-Pierre and Isabelle haven't put their hearts and souls into this process.
As for the practical elements, each grape variety and each parcel is vinified separately to emphasise individual aromatic nuance. The winery is built into the rocky foothills and covered with earth, so has a natural kind of low temperature control. Here, we find 60 barrels, each containing 300 litres, all of which are filled using gravity only and no pumps. Less quantifiable but no less important are the patience, observation, and love required for the wines to reach the quality they do.
The key characteristic of these wines is their richness, but that's not all. The Terrasses du Larzac have a unique situation, with high-alcohol grapes due to the hot temperatures and sun exposure, a profile that is lifted by a certain freshness. At over 1,000m above sea-level, these otherwise very warm wines turn out beautifully balanced.
With olive trees littering the fragrant garrigue landscape, timeless symbols of France's southerly climes, Mas de la Seranne has named its cuvées in homage to its surroundings.