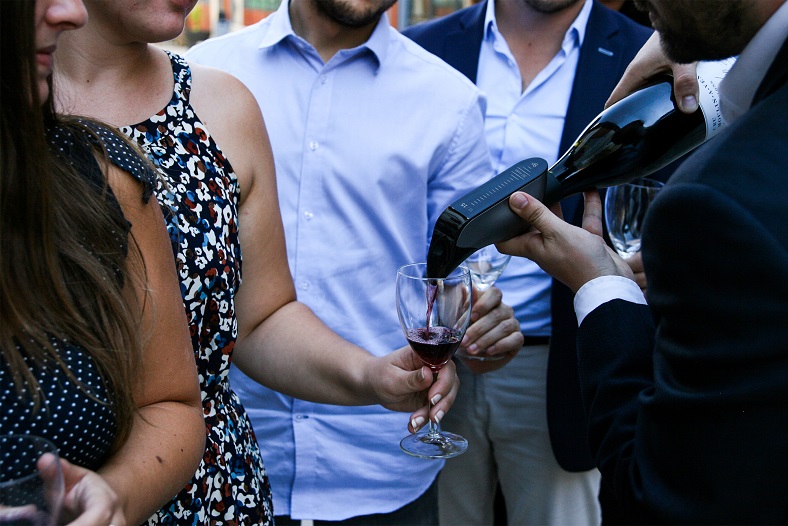 As you know, iDealwine and new technology are like two peas in a pod! When we discovered Aveine's connected wine aerator we were stunned. Let's enlighten you about this state-of-the-art product (and gift idea 😊) with this little interview.
How did you come up with the idea of a connected wine aerator?
The idea was born of a simple fact: wine is better when aerated. But, not knowing how to do this, wine lovers skip this time-consuming step. To counter this, Aveine came up with an idea to help people integrate aeration with an appliance that's quick and easy to use, playful and, importantly, mobile.
How does this tool and the technology behind it work?
Using the aerator is really simple: place it on an open bottle, scan the label so the app can figure out the ideal tasting conditions. This adjustment can also be done from the touch screen. Then all that's left is to pour the wine into your glass and enjoy!
The key is to understand that the wine is instantly aerated upon being poured through the aerator (in other words, at the moment of serving), with the device injecting air into the liquid. More precisely, there is an air chamber within the device. As the wine passes through, the pump injects ambient air, thus instantly increasing the surface contact between the air and the wine.
How to know if a wine should be aerated?
Air is both the best and worst thing to happen to a wine! When wine is aerated, it develops all the aromas it's made up of and gets rid of unpleasant flavours at the same time. But there is one thing to consider: if wine is left open for too long, it loses its entire bouquet…
By using the Aveine app, you will be able to find out the recommended level of aeration for each wine. This varies depending on the grape variety, the vintage and the region…So you'll receive the most precise of responses!
Can all kinds of wine be aerated?
All kinds of wine can indeed be aerated. We have more of a tendency to aerate red wines. This isn't to say that white or more mature wines can't be aerated!
Some sommeliers advise to never aerate an old wine but to organise a small gathering to make the most of it and to drink it quickly so that it doesn't lose its aromas. However, if the wine seems to be past its best, wait for 24 hours and, sometimes, a miracle can occur! Nevertheless you still have to watch out for the sediment.
The same goes for whites. We tend to avoid aerating them but managed oxidation has the potential to surprise. So aerating a Chablis for just an hour can truly lead to a revelation. Consider also aerating certain Champagnes and spirits!
With which wine would you like to use Aveine at the moment?
We like to enjoy Château Gigognan, for example. It's an interesting wine to taste with Aveine: we can see how it evolves during its aeration and its complexity can be easily distinguished. Comparing the taste without aeration to 6, 12 or even 24 hours of aeration allows every palate to find what it likes!
See all the wines currently for sale on iDealwine, which do you dream of tasting with an Aveine aerator?