Korean cuisine is a complex combination of intense and bold flavours, usually dominated by beautiful contrasts of spiciness and sweetness, in addition to sourness and saltiness.
A typical Korean meal makes it almost impossible to find the perfect wine pairing because of its rich flavours and fermented vegetables called Banchan. Luckily, we do have a useful rule of thumb for you: Avoid anything too bold or tannic. Here, we would seek subtle, zesty, and fruit-forward choices, looking for wines that harmonise with the flavours.
Read on as we take a look at a few of our favourite Korean dishes and suggested pairings.
Fried chicken
The best Korean fried chicken has a thin, ultra-crispy crust coated with different seasonings. Traditional Korean fried chicken is coated in a sweet and spicy sauce made with gochujang (a Korean chili paste) and other seasonings such as garlic, ginger, and soy sauce. A good match here would be a German Riesling like the Graacher Trocken 2020 by Willi Schaefer.
The Willi Schaefer estate only cultivates Riesling. The wines are made with very little intervention and the winemaker lets nature decide when vinification starts, with fermentation being triggered by indigenous yeasts. The long ageing on their lees is carried out in old German barrels of 1,000 litres. During fermentation, the wines are regularly tasted to analyse the balance between sweetness and acidity.
The residual sugar in the Graacher Trocken will complement the salty flavours of the fried chicken and will also help to reduce the heat if it is spicy.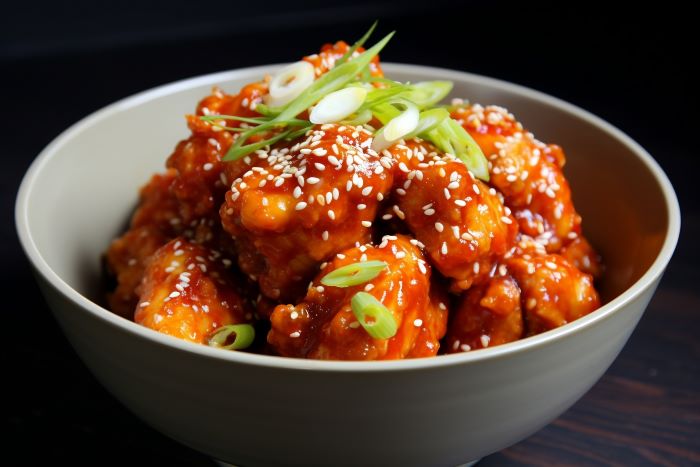 We also love to pair them with a Blanc de Blancs 2016 by Ayala.
Maison Ayala is one of the oldest champagne houses and has been in Aÿ since 1860. Not only is this cuvée produced from the finest crus in the Côte des Blancs, but it is also only produced in the best vintages. 2016 is full of freshness with great minerality. The acidity of this Blanc de Blanc and the "effervescence" – the twinkling effect of Champagne – can reduce the greasy feeling of fried chicken and add a spark of freshness.
Seafood
Koreans are fond of fish, especially sashimi, but not forgetting shellfish and seaweed.
We fell in love with Haemuljeon – a Korean-style salty pancake combined with seafood such as mussels, oysters, squid, shrimp, and clams mixed with spring onions, eggs, flour, and oil – when we visited Seoul earlier this year. It is served with a dipping sauce composed of soy sauce, vinegar, red pepper flakes, sugar, and black pepper.
As an appetiser to share, we recommend pairing it with a chilled rosé with good depth and fruity notes which would complement the crisp flavour of this seafood pancake. Our first thought for a pairing would be Terre Siciliane IGT Susucaru 2021 by Frank Cornelissen.
An icon and universally respected figure in natural wine, Frank Cornelissen is a classic. The winegrower tries as much as possible not to treat his vines with any substances and he succeeds most of the time. From time to time, he must still treat them with moderate quantities copper sulphate and sulphur. Susucaru is a thirst-quenching cuvée, a brilliant introduction to Frank Cornelissen's wines as well. They are extremely popular with wine lovers and are difficult to obtain.
Another dish that we really like during hot summers is Hoedeopbap, which is a rice bowl that is served chilled. The rice is topped with raw fish like salmon, toro, and sea bass and slices of fresh vegetables, finished off with a sweet and spicy sauce that usually combines gochujang, vinegar, garlic, and sugar. When the rice is topped with tuna, a beautiful pairing for the fatty Tuna would have to be an elegant Pinot Noir like the Volnay Ez Blanches 2020 from Domaines Terres De Velle.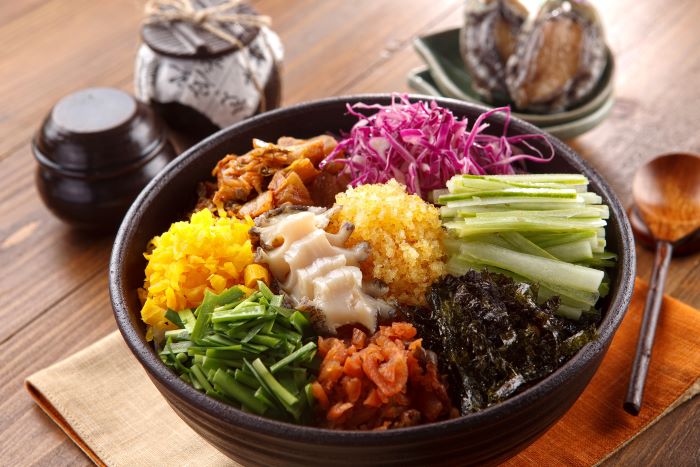 Domaine des Terres de Velle in Auxey-Duresses was established in July 2009 and owns 6 hectares across 14 prestigious appellations. The domain practices sustainable growing methods in order to keep the terroir at the heart of their work. The cuvee is precise, balanced, and extremely elegant. As it is not filtered, it shows the right amount of minerality, bringing length and freshness.
Korean barbecue
Who doesn't love BBQ?! Korean barbecue is a unique blend of sweet, savoury, smoky, and spicy flavours that perfectly match a red wine with fruity notes, balanced body, and low tannins. But we should say that it is best to avoid anything too heavy and complex as this would go against the rich flavours in the food. Without needing a second to think about it, Barbera D'Alba DOC 2018 from Luigi Pira would be an excellent choice.
This wine is aged for 12 months in large and small wooden barrels. The nose delivers a fine balance between fruitiness, and subtle woody, earthy notes. It is a mouth-filling, well-balanced wine which brings freshness to the palate and adds spiced notes to the finish. This light to medium-bodied red pairs deliciously with the charred and smoky flavours of the grilled meat.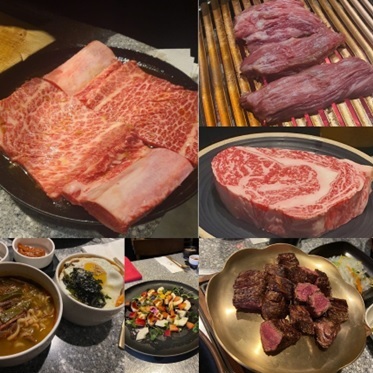 Another wine that exhibits the same characteristics and so would also pair wonderfully with the barbecued food is Barossa Valley The Struie 2019 from Torbreck.
Founded in 1995 by Dave Powell, Torbreck in now one of the emblematic domains of Barossa Valley. The founder, a Rhone enthusiast, took inspiration from the French region by mainly planting Syrah, Grenache, Mourvèdre, Viognier, Marsanne and Roussanne, with a little Sémillon. The cuvée is redolent of black fruits (blackberry, morello cherry) and spices (pepper, liquorice). The mouth is full-bodied and smooth with a beautiful silky texture.