This is the second episode of our saga dedicated to the history, genealogy and main characteristics of grape varieties. Today we conclude the historic grape varieties of Bordeaux with Petit Verdot and Semillon, as well as two that have almost disappeared from the vineyards: Malbec (or Cot) and Carménère .
How do we identify grape varieties?
There are three techniques used by specialists to determine the origin and kinship of a grape variety.
The etymology. Understanding the source of the words that were given to a grape variety can give interesting clues. However, this method is unreliable, since it is rare to have specifics written on the subject, and for each name, several possibilities usually emerge. This approach is primarily used to make estimations, which are then followed by more scientific analysis.
The study of the plant. By studying the ampelography, shape of the rootstock, the size of its leaves, the berries, their maturity date etc., we can study the different species and reconcile or even group them into families.
DNA analysis. This is often very complicated and expensive to implement, and relies on estimations. Moreover, DNA testing can prove that two varieties are genetically very close, but can struggle to prove kinship. That means that two varieties of different families can be genetically very close due to crossings (there are thousands of varieties and not far from 1,400 are still cultivated today).
It is therefore very complicated to establish certain kinships of some very old vines, as you will see below, and great debates persist despite the technical means at our disposal today.
The family of Carmenets
The family of Carmenets, the description "family" telling a brief history, includes the following varieties: Arrouya, Arrufiac, Cabernet Sauvignon, Carménère, Castets, Fer, Gros Cabernet, Gros Verdot, Lercat, Merlot, Merlot Blanc, Hondarribi Beltza, Pardotte and Petit Verdot (see details in "history").
These varieties have ampelographic common features and all come from the south-west of France and north-west of Spain. These varieties have probably travelled with the pilgrims of Saint-Jacques de Compostelle. The grape variety "Fer" or "Fer Servadou" on the path of Compostelle is quite a striking example amazing.
Similar to Petit Verdot, Carménère and Malbec are relatively late ripening varieties, which means that they need a lot of heat to ripen. This leads us to believe that with the gradual warming of the planet, these varieties could again become popular in France, where they had gradually disappeared.
Cot (Malbec)

History: Cot probably takes its name from the region where it originates, Cahors, and has close to 20 different names in different regions (Cos, Cau, Cor, Cors, Nuar de Pressac, Pied de Perdrix, Prunelat…). The name Malbec comes from Malbeck, the name of the first person having grown it in Saint-Eulalie-d'Ambarès and who propagated it throughout the Médoc.
It was recently established that it is the result of a cross between Magdeleine Noire des Charentes and Cabernet Franc, proving it originates from somewhere between Tarn and Charente (so near Cahors). Malbec is the half-brother of Merlot, since they have one parent in common – Magdeleine Noire des Charentes.
Geography: More famous for Argentine wines than those of Cahors, Malbec has gained considerable importance in the new wine producing countries, dropping more and more in France. 5,000 hectares of Malbec were planted in France in the late 1960s, but by 2011, only 934 remained. You can also find it in Australia, Bulgaria, Chile, Croatia, the USA and Romania.
Aromas: Malbec used for the wines of Cahors (minimum 70%) are very dark, almost black wines, with aromas of black fruits, liquorice and earthy/vegetal character. It is often full-bodied, with lots of tannins, balanced by a lively, fruity character.
The Argentine wines have a warmer feel, with red and black jammy fruit flavours, while maintaining liquorice, smoky and toasted characters, related to the presence of wood during ageing. These wines are usually consumed young, but the tannins will soften somewhat with time.
Carménère: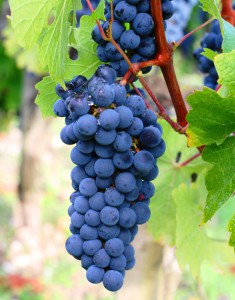 History: Carménère is a historical grape of Bordeaux, where it was once very common. Similar to Merlot (which is its half-brother), it was thought that this variety had almost disappeared after phylloxera. It was research that helped to prove that part of a Chilean Merlot vineyard was actually… Carménère! Son of Cabernet Franc and Gros Cabernet, Carménère has a whole line of cousins whom we have shared since episode 1, the descendants of Cabernet Franc.
Geography: Carménère is primarily present in Chile, a bit in Italy and very little in France. Some domaines are trying to reintroduce it in Bordeaux and produce highly confidential and experimental wines, often not commercially available (such as Brane-Cantenac).
Aromas: Carménère has many common characteristics to the wines described above: it produces very dark wines, marked by pronounced fruit, liquorice and menthol aromas, with some powerful herbal notes in some of the younger wines. When blending in a Bordeaux style (with Cabernet Sauvignon, Merlot, Petit Verdot, etc.), it contributes to a more dense and structured wine, and allows for longer ageing.
Petit Verdot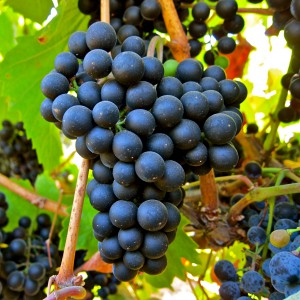 History: The history of Petit Verdot is controversial. Being genetically very close to the family of Carmenets, it has generally been ranked in this category, notably referenced in studies on the subject by Levadoux (1948, 1956) and Bisson (1999, 2009). However, recent DNA studies suggest that it could be otherwise.
There is another family (no name yet) with Gros Verdot, Petit Verdot Faux and Petit Verdot, probably all from the Pyrenees. It is an extremely late ripening grape variety, hence the name "Vert" (meaning "green"), because it is very seldom really ripe. The domaines that have suitable terroirs for its proper ripening (orientation, soil, vine age) use them in their blends, often with great success.
Geography: While it originates in Bordeaux, as the name suggests, Petit Verdot is doing much better in warmer climates. It is therefore present in South Africa, the United States, Australia, Argentina, Chile and Italy.
Aromas: In blends, this grape is often referred as "the touch of pepper" of Bordeaux wines. It produces dark wines, with a complex nose of black fruits (blackcurrant, blackberry), liquorice and, of course, this famous peppery note. The wines from this grape retain a lovely freshness, even in hot climates.
Semillon
History: Like Petit Verdot, the origins of Semillon are still unclear. The most likely theory suggests that Semillon is native to Saint-Emillion, with a local pronunciation, namely "semeljun". However, recent DNA studies show that Sauvignon and Semillon are genetically very close, even though these same studies reject a direct relationship.
Another theory states that Merwah, a Lebanese grape very close to Semillon, is the ancestor. However, the genetic similarities between Sauvignon and Semillon seem to challenge this theory, as there has never been Sauvignon in Lebanon. Merwah could therefore well be a local clone of Semillon, but it remains unproven.
Geography: Semillon is mainly the grape variety found in the Gironde and south-west, mainly due to its high sensitivity to botrytis, and it has become the major grape used in sweet wine blends. It also produces great dry wines in Australia and can be found in many other countries, such as New Zealand, Romania, Italy, Croatia, South Africa and Argentina.
Aromas: In dry white wines, Semillon displays lovely aromatic flavours of ripe yellow fruits, honey, dried fruits and butter, with oak ageing characters (vanilla and toasty aromas). In blends, it is often associated with Sauvignon and contributes to a more powerful wine, less austere, adding complexity to aged white wines.
In sweet wines, Semillon contributes candied fruit flavours, such as apricot, pineapple, mango, yellow fruits and quince, as well as toasty aromas (like mushroom and honey). Over time, the wines can develop a very complex bouquet of mild spices, gingerbread, dried fruits, honey and mushrooms.
We hope that this second episode answered all your questions. Next up, we will be heading to the Loire!