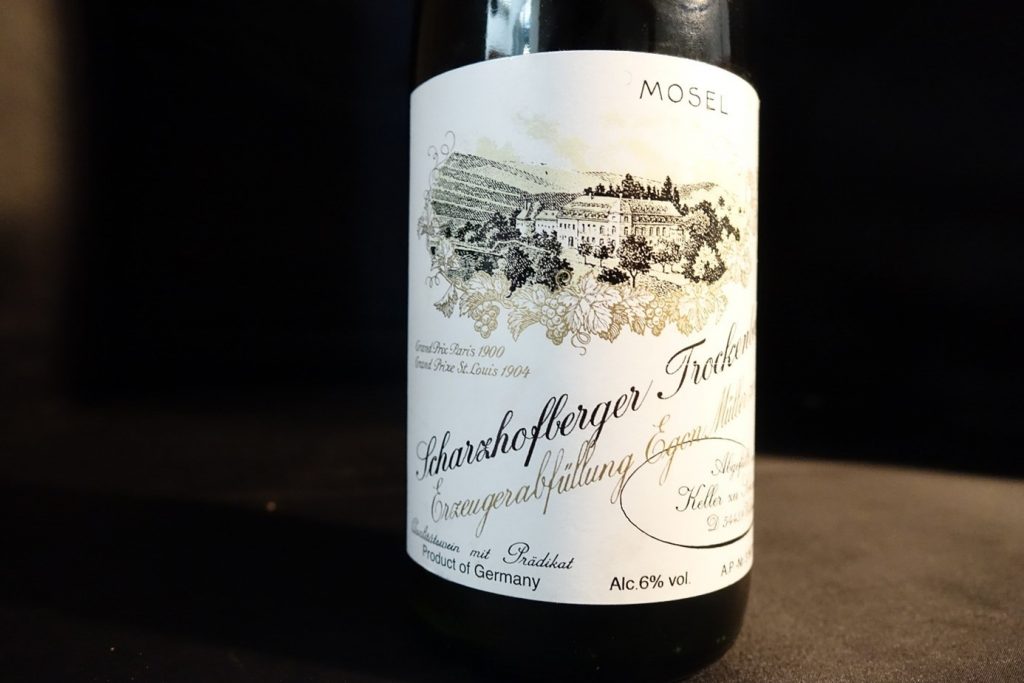 20 Highest Hammer Prices: Germany steals the show
In 2020, iDealwine's top 20 winning bids outside France and Italy included an impressive five German bottles, ahead of United States and Australia (but just pipped to the post by Spain). Comparable to 2019 and indicating consistency despite the Covid-19 pandemic, four of those five bottles were Egon Müller signatures, the fifth was Keller.
A trend that is likely unique to Germany, dessert wine is by far the most sought-after wine, and continues to fetch high prices at auction. Both Eiswein and Trockenbeerenauslese (TBA) dominate the list of highest hammer prices of German wine. Eiswein is becoming rarer and rarer due to climate change so prices are rising. TBA is both rare and expensive due to the skilled and intense labour that is required to produce this wine, made from individually selected grapes affected by noble rot.
Egon Müller and Eiswein
Icon of the Mosel region, famed in the dessert wine world, and sought after by wine lovers everywhere, Egon Müller's Trockenbeerenauslese consistently tops the charts of iDealwine's selection of German wines at auction. 2020 went a little differently however, with three Eiswein at the top, rather than TBA. Two Eiswein bottles in the 1998 vintage went to auction, one for €2210 and one for €1473. The lower price for the second bottle was due its slightly deteriorated label condition. The 2002 vintage went for €1473 also, all were sold to private collectors.
In the same family since 1797, and now in its fifth generation, the history of the Egon Müller property began when Jean-Jacques Kook bought the Scharzhof farm from French authorities and built what is still the cellar today. There were already vines growing there, but they belonged to a monastery at the time. When the adjoining land was occupied by French Revolutionary troops, the church was stripped of its estates. Jean-Jacques Koch seized the opportunity and acquired the adjacent vineyard, and the rest they say, is history. Want to learn more about this illustrious producer? Take a look at our domain page for Egon Müller and our detailed breakdown of price estimates for Egon Müller.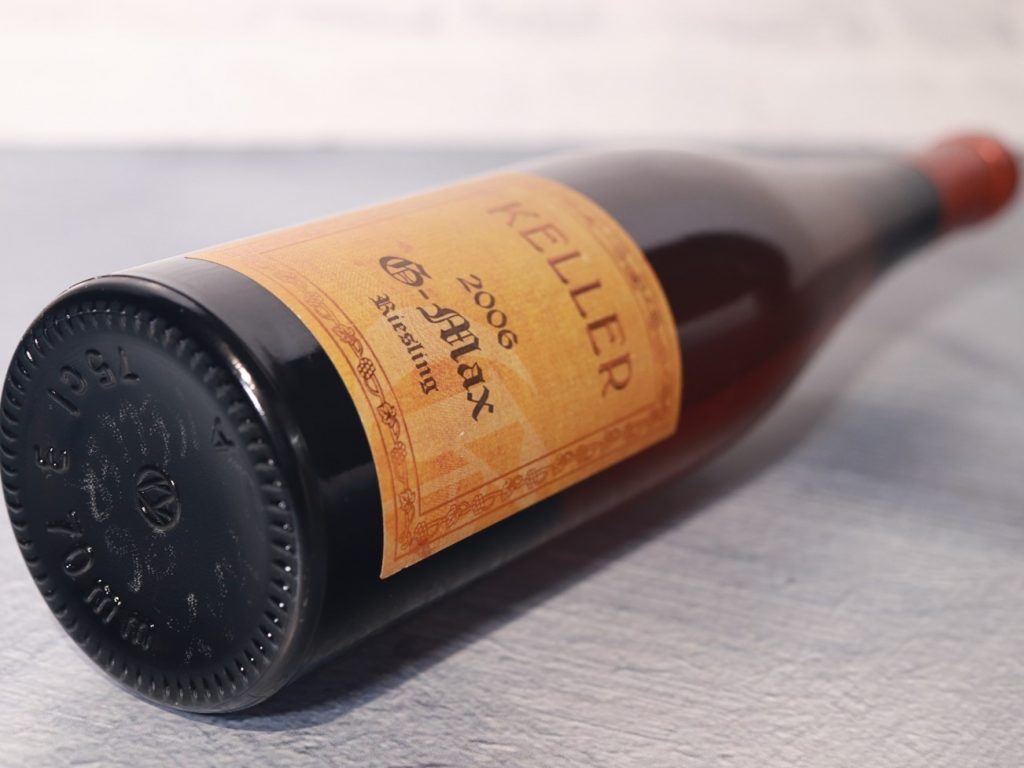 Keller's G-MAX – world class Riesling
Moving from Egon Müller in the Mosel to Rheinhessen we find Keller, the famed centuries-old and still family-owned producer. Occupying almost as many top spots as Müller, Keller's 2006 vintage Riesling G Max went under the hammer for €1167, the only other German producer to break the €1000 mark. Keller's G-Max has been described as ranking among the best dry Rieslings in the world – it brings together the lightness of this varietal with incredible depth, precision and minerality. It is important to note that this is the only dry wine to feature in the top 5, with three other dry whites from Keller also making the top 20. When it comes to dry Riesling in Germany, Keller is king!
See more wine price estimates for Keller here.
Egon Müller and Keller aside, what other German producers perform well at auction?
Don't forget dessert wine is often produced in half bottles (it can make it hard to compare prices). This smaller format is seen throughout top rankings of German wine where sweet nectar reigns supreme. Half bottles of 2007 TBA Brauneberger Juffer from Fritz Haag were bought for €222 and €246. Three half bottles of TBA from the Nahe region's Emrich Schonleber in the 2005 vintage were sold for €187, €187, and €163, respectively. One half bottle from Kloster Eberbach achieved €154 for the 2002 vintage. Our Germany wine rankings also include standout bottles from biodynamic producer Georg Breuer, Markus Molitor, and the very modest production of A. J. Adams. Remember, what's rare is wonderful!
Who buys fine German wine?
In short, everyone! Buyers of world-class German wines live as close as Austria, Poland, and France; a little further afield in Spain and the UK, and as far as Hong Kong. The majority of buyers are private wine enthusiasts and collectors, with wine industry professionals in the minority.
Curious about prices for German wine in your cellar? Get a free estimate with iDealwine here.
2020 Highest Price Lots : Germany
| | | | | |
| --- | --- | --- | --- | --- |
| | Profile | Lot name | Final Hammer Price | Price per 75cl bottle |
| 1. | Sweet white | 1 Bottle Riesling Scharzhofberger Eiswein Egon Muller 1998 |                               2,210 € |                             2,210 € |
| 2. | Sweet white | 1 Bottle Riesling Scharzhofberger Eiswein Egon Muller 1998 |                               1,474 € |                             1,474 € |
| 3. | Sweet white | 1 Bottle Riesling Scharzhofberger Eiswein Egon Muller 2002 |                               1,474 € |                             1,474 € |
| 4. | Sweet white | 1 Bottle Riesling-Eiswein Scharzfofberger GK AP0717 Egon Muller 2016 |                               1,228 € |                             1,228 € |
| 5. | White | 1 Bottle Riesling G Max Klaus Keller 2006 |                               1,167 € |                             1,167 € |
| 6. | Sweet white | 2 Bottle Riesling Egon Muller Scharzhofberger Auslese 2010 |                                   636 € |                                 318 € |
| 7. | White | 2 Bottle Riesling Abst Erde Westhofen Brunnenhäuschen trocken GG Keller 2015 |                                   614 € |                                 307 € |
| 8. | Sweet white | 2 Bottle Riesling Egon Muller Scharzhofberger Auslese 2010 |                                   565 € |                                 282 € |
| 9. | Sweet white | 3 Bottle Riesling Trockenbeerenauslese Dhroner Hofberg Weingut A. J. Adam 2011 |                                   526 € |                                 175 € |
| 10. | White | 1 Bottle Riesling Nierstein Pettenthal Grosses Gewachs Trocken Keller 2010 |                                   491 € |                                 491 € |
| 11. | Sweet white | 2 Bottle Riesling Scharzhofberger Auslese Egon Muller 2009 |                                   491 € |                                246 € |
| 12. | White | 3 Bottle Riesling Trocken Kirchspiel Keller 2015 |                                   479 € |                                 160 € |
| 13. | White | 3 Bottle Riesling Trocken Hubacker Keller 2016 |                                   467 € |                                 156 € |
| 14. | White | 1 Bottle Riesling Westhofen Morstein Grosses Gewachs Trocken Keller 2010 |                                   467 € |                                 467 € |
| 15. | Sweet white | 1 Bottle Riesling Scharzhofberger Auslese Egon Muller 1999 |                                   418 € |                                 418 € |
| 16. | Sweet white | 3 Bottles Riesling Brauneberger Juffer Sonnenuhr Auslese Lange Goldkapsel Schloss Lieser 2007 |                                  368 € |                                 123 € |
| 17. | White | 3 Bottles Riesling Rüdesheim Berg Schlossberg Georg Breuer 2015 |                                   368 € |                                 123 € |
| 18. | Sweet White | 1 Bottle Riesling Scharzhofberger Auslese Egon Muller 2002 |                                   344 € |                                 344 € |
| 19. | Sweet White | 3 Half Bottles Markus Molitor Zeltinger Sonnenuhr Beerenauslese 2015 |                                   332 € |                                 221 € |
| 20. | White | 2 Magnums Rheinhessen Riesling Trocken Westhofen Morstein GG Wittmann 2011 |                                   332 € |                                   83 € |