There's primeurs and then there's primeurs. There's the ready-to-drink wines and the new wines that are consumed but are not quite ready yet… In other words, Beaujolais Nouveau and other early-release wines produced during the current year, are not to be confused with the Bordeaux en primeurs, tasted by professionals at the end of March. Given the time of year, let's turn our attention to the former.
Contents
When is Beaujolais Nouveau released?
What is the story behind Beaujolais Nouveau?
How is Beaujolais Nouveau produced?
What food and wine pairings work well with Beaujolais Nouveau?
Does Beaujolais Nouveau have ageing potential?
Which Beaujolais Nouveau will be sold on iDealwine in 2023?
Life hasn't always been easy for Beaujolais Nouveau (we'll come to that later on) but we are excited to offer you some of this easy-drinking wine this year. And you know we only offer you the very best at iDealwine. Read on to find out everything there is to know about the popular celebration that causes wine lovers to gather every third Thursday in November and to discover what Beaujolais Nouveau is available on the website.
When is Beaujolais Nouveau released?
Beaujolais Nouveau is a long-standing French tradition celebrated by wine amateurs … but not exclusively! Each year, the mood is always incredibly festive on the third Thursday in November, as people flock to bars to celebrate and taste this wine that has just been bottled.
What is the story behind Beaujolais Nouveau?
Beaujolais Nouveau was officially introduced in 1951. But its origins date back to the 19th century, when winemaking methods were developed to produce wines that could be opened and consumed shortly after the harvest was completed. Initially set for 15 November, the Beaujolais Nouveau official release date was changed to midnight on the third Thursday of November in 1985. This new date was introduced to regulate the distribution of the wine, so it didn't coincide with a weekend. These very young wines, already bottled while some grapes have yet to be picked, are not designed to reinvent wine: they are intended for simpler, more festive consumption, or to be enjoyed at harvest festivals.
How is Beaujolais Nouveau produced?
It all starts with the grapes, and Beaujolais Nouveau is exclusively produced from Gamay, a black-skinned white pulp grape variety. After the harvest in September, the grapes undergo a semi-carbonic maceration (also known as 'Beaujolais maceration'). This involves placing the whole berries (neither pressed nor crushed) in a vat. This triggers a process of intracellular fermentation that creates intense, rich aromas that are more pronounced than usual. Put simply, the fermentation (yeasts that transform sugar into alcohol) occurs inside the berries themselves, under the skin which produces the tannins. This is ultimately why this wine is so supple, delicious, and fruity.
Beaujolais Nouveau is produced in the Beaujolais and Beaujolais Villages appellations but it is not an appellation in itself.
What food and wine pairings work well with Beaujolais Nouveau?
You needn't worry too much as Beaujolais Nouveau is THE convivial wine of choice and doesn't warrant any fancy pairings. A charcuterie platter, sausage rolls, pork pie… All simple, informal ideas guaranteed to please. If you're really eager to pair this wine, go for simple dishes that won't overwhelm its flavours and texture such as white meats, red tuna steak, pumpkin mash, mushroom gratin…
Does Beaujolais Nouveau have ageing potential?
As this wine does not result from a complex vinification process and long ageing, its aromas are predominantly primary (= fruity and floral) and will not develop further. The same goes for its fluid, easy-drinking texture. Beaujolais Nouveau is not intended to stand the test of time and should be drunk within a year or two at the most.
Which Beaujolais Nouveau will be sold on iDealwine in 2023?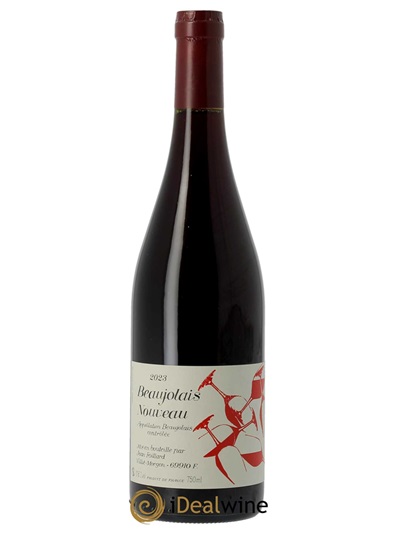 This year, enthusiasts will be able to discover the Beaujolais Nouveau produced by Jean Foillard, a winemaker whose wines we particularly appreciate for their fine balance of smoothness, depth and ageing potential.
This wine exudes energy and liveliness, with crunchy tannins and a beautiful minerality coated by succulent small fruit.
The Beaujolais Nouveau controversy
While Beaujolais Nouveau is an event eagerly anticipated by many, over the years it also proved detrimental to the region despite its abundant fine terroirs and talented, respected winemakers. The simplicity of this wine overshadowed the reputation of region's other wines with great ageing potential produced in appellations such as Moulin-à-Vent and Morgon, for example. Worse still, some probably considered it as representative of all wines produced in the Beaujolais region… Fortunately, this is all in the past. Today, at iDealwine, we are seeing an ever-increasing interest in Beaujolais wines!
Buy Jean Foillard's Beaujolais Nouveau for sale on iDealwine