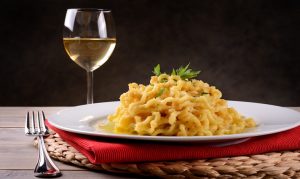 This Italian classic is undoubtedly a staple for many of us. But what kind of wine should you serve with it? There are as many responses to this question as there are accompaniments to enjoy…
When it comes to choosing the wine to serve alongside your pasta, there is one rule that goes for all recipes, whatever the shape of the pasta: this texture will never pair well with tannic, red wines due to its main ingredient being common or durum wheat. But don't worry, there are still plenty of pairing possibilities!
Pasta with tomato sauces
Recipes involving tomato sauce are, of course, some of the most frequently (and simply!) rustled up, from a simple tomato coulis to sauces with onion, vegetables, herbs, or a bit of spice. And as we know, the tomato isn't wine's best friend, since its marked acidity can spoil the complexity of a fine bottle.
Our suggestions: opt for reds that are fruity and less tannic, bottles to be opened young. Wines from Beaujolais might seem to fit the bill here, but the Gamay grape has a bit too much acidity to make this a good pairing. Instead, consider a nice Côtes-du-Rhône with the indulgent roundness of Grenache, or a fruity cuvée from a Languedoc or Roussillon domain.
Pasta with meat sauce
This is another classic when it comes to pasta dishes. Spaghetti Bolognese must be one of the nation's favourite dinners! We can also add to this the kinds of pasta prepared with meat incorporated, such as ravioli, lasagne, and cannelloni. With these dishes, the mince brings a supplementary texture and a bit of fat, which makes them a bit more diverse in terms of wine pairing.
Our suggestions: the wines mentioned above would also be good choices here, perhaps a bottle from the Languedoc or Roussillon but with a bit more structure, or perhaps a wine from the southern Rhône (Cairanne, Sablet, Séguret, Massif d'Uchaux), particularly one with a high percentage of Grenache. A light red from Provence or a wine from the northern Rhône such as a Syrah from Crozes Hermitage or Saint-Joseph. Save the absolute top wines for another time though, as these might be too powerful and are often strongly marked by oak. To be even more authentic, why not try an Italian wine? Fruity varieties like Barbera and Dolcetto from Piedmont will go nicely, as will some fresh and pleasant Chianti cuvées. In the summer, a rosé might tickle your fancy, though make sure not to choose one that's too aromatic.
Pasta with cheese
Whether it's a question of making some simple pasta and serving it with grated parmesan or going the whole hog with a macaroni cheese or ravioli dish, we're undoubtedly in the world of white wine here.
Our suggestions: these relatively simple dishes don't call for complex pairing wines. From Burgundy, we would look for the more generic or 'villages' appellations, more towards the Mâconnais. Chardonnay wines from the Jura will also go very well, as will Savoy whites, especially those made of Jacquère. Whites from the Rhône might not sit quite as well with this kind of dish, since their balance is not often based on acidity.
Pasta with seafood
If any category were to require a little more finesse in its pairings, it's this one. Even if the base ingredient of pasta remains the same, the variety of seafood options means that wine pairings will differ. And the way the seafood is cooked matters, too! For example, the texture of the fish or crustacean, or the use of cream, will play an important part in your choice. Here are some of the main things to consider.
Our suggestions: any pasta and seafood dish that involves cream calls for a Burgundy, from the Mâconnais or Meursault, or indeed a white Rhône. If you choose a recipe that involves a mixture of seafood (mussels, prawns, calamari), or a delicious Sicilian recipe like sardines with fennel, you'll need a very dry white with a marked, mineral character – this will pair wonderfully with the saltiness of these ingredients. We're thinking especially of the magnificent whites from Roussillon that are made of Grenache Blanc, Grenache Gris, and sometimes Macabeu, wine from Provence and Corsica made from Rolle (also known as Vermentino), as well as the Greek whites from Santorini. Slightly more to the north, some interesting pairings might be made from a nice Muscadet, a Chablis premier cru, or even a dry Alsace Riesling or its cousin, Chenin, in the Loire – the important thing is that it should be a dry white!
We hope that's enough to keep you inspired for a while! See all the wines we have for sale here.