A new spirit auction is underway on the Fine Spirits Auction website, which puts Japanese whiskies centre stage. Take a tour of the world with the wonderful spirits that can be found there!
Japanese whiskies
Karuizawa
Karuizawa is represented by several single cask whiskies, which includes La Maison du Whisky's superb selection for the Artifices series, which are adorned with labels created by Singaporean artist Warren Khong. Bottles from the most recent releases (1999-2000) of 36 Views of Mount Fuji (富嶽三十六景, Fugaku-sanjūrokkei) are also available whose labels feature famous prints by Hokusai (1760-1849).
Suntory
A collection of Suntory features in this auction, offering a large selection of Hibiki, with editions ranging from 12 year olds to 30 year olds, notably including a special edition of the latter presented in a ceramic decanter manufactured in Arita, which is considered the birthplace of Japanese ceramics and remains one of its main production centres today. The Suntory Yamazaki distillery also stands out with a single cask distilled in 1990, aged in a sherry cask and bottled in 2008. This edition was part of the series The Cask produced by Suntory in the 2000s.
Nikka
Nikka is also represented by a beautiful selection of single casks, such as two Yoichi distilled in 1988 and 1991 as well as a Yoichi 20 Years 1989 and a Miyagikyo from the same year and series. Elsewhere, you can find a magnificent gift set released in 2004 to celebrate Nikka's 70th anniversary, which contains composed of one Yoichi, one Miyagikyo, one Coffey Grain and a blend of the three, all matured for 12 years and bottled at 58% ABV.
Scottish whiskies
Gordon & MacPhail
For many years, Gordon & MacPhail held the licenses to bottle whiskies from other distilleries, in particular those located in Speyside where this historic enterprise is based. An example would be the distillery Longmorn during the 1970s and 1980s. This relationship enabled Gordon & MacPhail to amass numerous casks, which resulted in remarkable single cask releases distilled in the 1960s and 1970s. Other distilleries with close links to Gordon & MacPhail, such as Strathisla and Glenlivet, also feature in the auction.
Prestonfield
Signatory Vintage returns to FSA, going back to its beginnings with the Prestonfield range, which was originally developed for the hotel bearing the same name in Edinburgh, where Andrew Symington worked. After establishing Signatory Vintage in 1988, Symington founded The Prestonfield Whisky Co. and continued to release bottlings, examples of which can be found in this auction including a Clynelish 1973 and a Bowmore1972 as well as a Ben Nevis 1975 and Bowmore 1990.
Compass Box
You can find several excellent editions of Compass Box, including the mysterious bottlings titled The General and Lady Luck and the mischievous Last Vatted Grain. They all showcase the talent of John Glaser, who is considered one of the best master blenders of his generation.
Rum
Velier
Velier is represented by many prestigious rums like Caroni from the Employees range and single cask #4655 selected by The Nectar, a Belgian distributor. The auction also includes superb magnums from the series illustrated with photographs taken by Elliott Erwitt and for the first time ever, the Flora Antillarum collection dedicated to the distilleries of Guadeloupe. Finally, the highly successful Uitvlugt 1997 ULR (Uitvlugt Light Rum) makes an appearance on FSA.
Jamaican rums
From Jamaica, you can find an array of famous Velier, most notably the Hearts Collection, as well as rums from Hampden, Worthy Park, Clarendon Long Pond and Appleton. There are also treasures from independent bottlers to unearth such as Kill Devil (Edition Spirits) and Cadenhead.
West Indian rums
This auction presents a wonderful selection of rums from French overseas territories, including special editions from brands such as La Favorite, J.M, Bally, Depaz and Trois Rivières, as well as single casks from Savanna and a very old Neisson 19 Years.
Cognac
Hennessy
Hennessy offers us a luxurious trio of iconic editions presented in crystal decanters. They are Hennessy Paradis, Hennessy Paradis Impérial and Richard Hennessy, whose blends the best eaux de vie produced by the house, some of which are literally hundreds of years old.
Chartreuse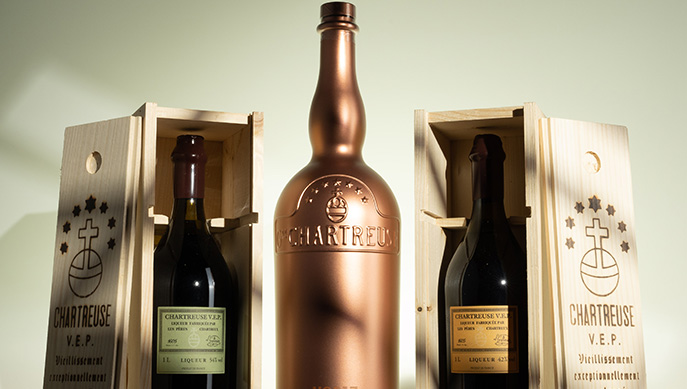 The auction also features Chartreuse, the liqueur whose recipe is only known by a handful of people. You can find the latest bottlings of V.E.P. (Vieillissement Exceptionnellement Prolongé – "exceptionally long ageing" in English) and the Meilleurs Ouvriers de France cuvée, as well as a Jeroboam of Yellow Chartreuse presented in a beautiful copper bottle. The 2021 edition is limited to just 999 bottles. There are also several bottles of Tarragone from the 1950s which were nicknamed El Licor Cumbre in Spain.