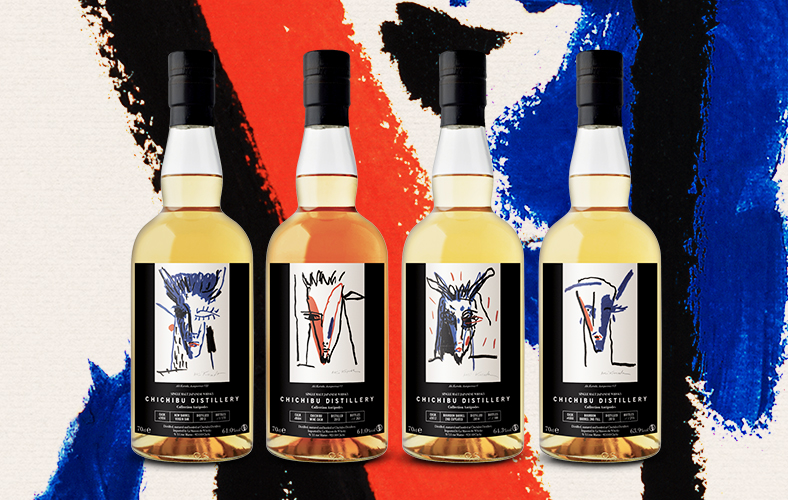 Spirit collectors, listen up! We've got rare whisky, rum, cognac, armagnac, calvados, and Chartreuse waiting for your bids, as well as lesser-known bottles like mezcal, a spirit made from agave. Plus, from the 24th of September, we'll be holding a charity sale in aid of the GoodPlanet Foundation!
Mezcal special
Here are four bottles from Del Maguey that give you a chance to try an artisanal eau-de-vie from Mexico that's made using agave:
Del Maguey Wild Tepeztate; Del Maguey San José Rio Minas; Del Maguey San Pedro Taviche; Del Maguey Santo Domingo Albarradas
These particular spirits come from tiny plots of agave, featuring different varieties. Cultivated on a family-scale in rural villages, they undergo "short fill" bottling, meaning that 700ml goes into a 750ml bottle; this is due to Mexican legislation.
Whisky ideas
From Japan, the Chichibu distillery is honoured in this auction with some of its limited edition bottles, ideal for building a collection. Irish and American whiskeys also make an appearance with a gorgeous assortment of modern and older bottles; 1976 Kentucky Vintage, Bushmills, and 1780 Jameson 12 Year are just a few of the lots to bid on.
Scotland remains front and centre, though, with a broad range of malts and blends. Among some of the more prestigious names are Bowmore and Macallan for the malts, and Chivas and Compass Box for the blends. You should also note the traditional, French-imported bottles from the 80s and 90s: a floral Auchentoshan, a non-peated Bruichladdich, a Balvenie, a Springbank, and a Longmorn.
Top picks from the auction
Karuizawa 1971 Number One Drinks Vintage Single Cask n°6878 – bottled 2008
A rare version of this whisky, never before presented in a Fine Spirits Auction. In 2008, La Maison du Whisky was allocated 120 of these bottles, bottled at the Karuizawa distillery under the masterful eye of Nakazato.
Karuizawa 1975 Number One Drinks Vintage Single Cask n°6736 – bottled 2010 LMDW
An edition limited to 581 bottles worldwide, and a vintage that seems to have filled just five casks!
Kentucky Vintage 1976 Of. Original Sour Mash
A vintage version of a bourbon from Bardstown, associated with the Willett Family and the Heaven Hill distillery.
Willett 15 years Of. Barrel n°2501 – One of 128 Rare Release
A single cask from a micro-production of 128 bottles. This brand appeared relatively recently on the French market, and was received exceptionally well by collectors of American whisky.
Bowmore 22 years 1965, The Prestonfield sherry wood cask n°47
Prestonfield House is a prestigious hotel in Edinburgh that created an exclusive range of its own whiskies in the 1960s. They called it "The Prestonfield" collection, and it was only available to buy in their hotel. The high quality of certain casks – notably the 1967 Springbank and this 1965 Bowmore – have made them greatly coveted.
Bowmore 1969, Bicentenary one of 300 – bottled 1979 fecchio & frassa import
Having one of these bottles in your cabinet sets you apart as the most serious of collectors.
Charity auction FSA x GoodPlanet Foundation
For Whisky Live Paris 2022, Fine Spirits Auction is organising, thanks to the generosity of partner brands, an exceptional charity auction offering a small number of the rarest lots, from the 24th of September.
The profits from this operation will be donated in full to the GoodPlanet Foundation (founded by Yann Arthus-Bertrand), which aims to raise awareness of environmental issues, in support of two specific projects: 1) the preservation of biodiversity in Senegal's Saloum delta, and 2) the development of agroforestry and the restoration of biodiversity in the Tarn region.
Among the spirits up for bidding, we've got four unique bottles of Chichibu, where art and whisky come together, as original works signed by the painter Aki Kuroda illustrate the labels. Another Japanese whisky is also part of this exceptional sale: Karuizawa Omoiyari, a limited edition of six bottles from Elixir Distillers, a blend designed specially to finance charitable projects.
Macallan has once again responded with the New York Edition of the Distill Your World range. La Barge 166, Ferrand's new floating winery, entrusted us with the sale of its first 30-litre cask: cask n°1! – a Clarendon 2012 selected by Alexandre Gabriel.
Finally, you will also find bottles from Armorik, Artist Collective, Artist Strathisla, Blanton's, Caroni, Christian Drouin, Hampden, Mars, Neisson, Plantation, Renegade, Vallein Tercinier, Weller.
We would like to warmly thank all the brands that allow us to present you these extraordinary lots.