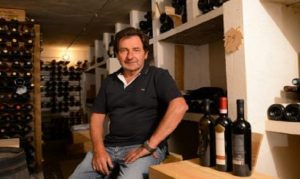 The great Domaine de la Janasse, run by the Sabon family, has become one of the top domains in the Châteauneuf-du-Pape appellation, all while offering a wide and varied range of wines.
Domaine de la Janasse is located in the Courthézon commune in Vaucluse, but it covers nearly 90 hectares, a larger surface area than most of its neighbours. This great size gives it the capacity to create a number of styles of wines, from its IGP Principauté d'Orange to its prestigious Châteauneuf-du-Pape cuvées. It never fails to thread the line of delivering on quality and price.
When Aimé Sabon came back from his military service in 1967, he took over the running of the family vines from his father (who had been sending the grapes to a local co-operative). He built his own winery so that he could reveal the quality of the terroirs. Thanks to them and his own hard work, the domain has been able to produce wines suitable for long ageing.
Despite the size of the domain, the vines are tended meticulously and in harmony with the characteristics of each terroir and parcel. The white varieties and the Syrah are planted on sandy limestone soil and face north-east. The Mourvèdre vines are planted on limestone-clay soils covered in rolled pebbles. For the brilliant Chaupin and Les Garrigues wine, the Grenache are planted on colder terroirs which cause the grapes to ripen later.
Some wines from Domaine de la Janasse currently available on iDealwine:
IGP Principauté d'Orange Terre de Buissière 2019
This Vin de Pays is made from Merlot, Syrah, Grenache and Cabernet Sauvignon. The vines are grown without herbicides or pesticides on a soil consisting of gravelly alluvium in the hamlet of "Bussière". The maceration is relatively short (12 to 15 days) to extract a rather fruity profile. The Merlot is aged in barriques (30% new) for 12 months. From its early days, it has notes of black fruit and leather.
Châteauneuf-du-Pape Vieilles Vignes 2008/2014/2019
The complexity of these wines can be explained by the diversity of the terroirs that make them. The "southern" terroir of rolled pebbles gives it power, while a terroir close to Chaupin provides freshness and acidity, and a terroir of red clay cause the grapes to ripen later as it is located in the north of the appellation which gives it structure, and finally a sandy and chalk-rich hillside offers finesse. Maceration lasts for 28 days, with daily punch-down to extract the tannic structure and ageing takes place in large wooden vats and demi-muids (600-litre barrels). On the palate, it is noble and dense, with flavours of liquorice and garrigue.
Shop Domaine de la Janasse wines
See all Rhône Valley wines on iDealwine