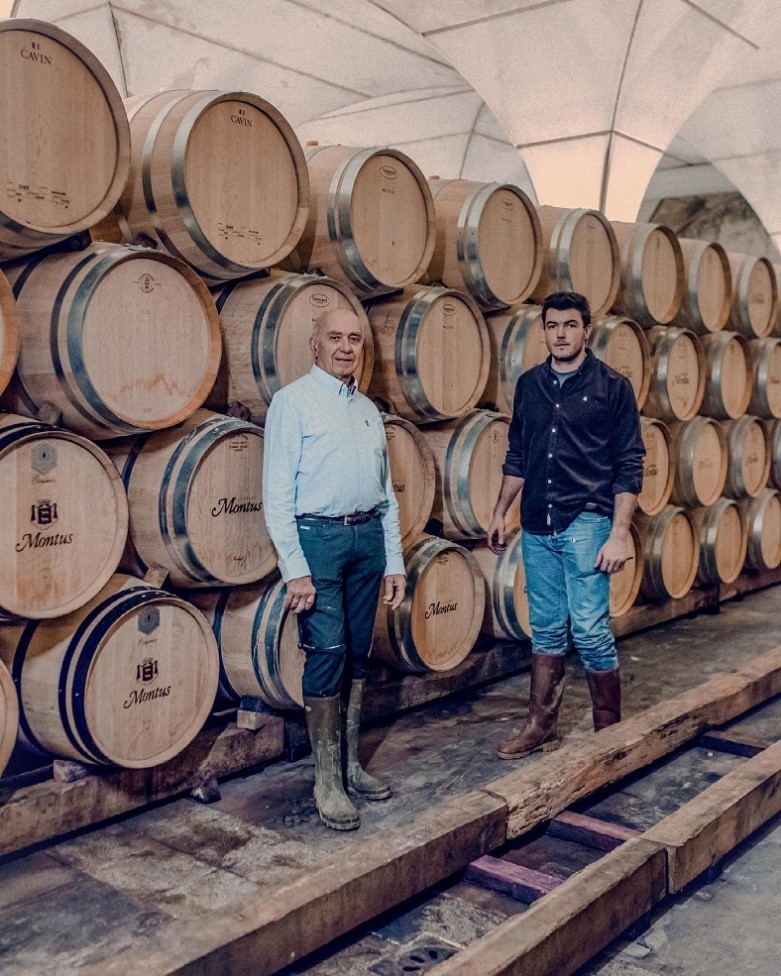 Alain Brumont's estate has become emblematic of Madiran's winemaking, and even of the South-West more broadly, boasting quality viticulture and vinification that are perfectly adapted to the area's characteristic Tannat grape. And if you think something so specialist might only find local interest, think again; Château Montus' reputation carries its bottles to 65 different exporter countries! Decades of work have been rewarded, resulting in a dazzling image for the lesser-known Madiran appellation and a cohort of inspired wine makers ready to take up the regional torch.
Interview with Antoine Veiry
Tell me about the history of Château Montus?
I'm the third generation at the domain. Alain Brumont, my stepfather, didn't follow the traditional path we tend to hear about, having worked on a farm before coming to the domain once his father retired. This was a long-held ambition to get the Tannat grape recognised, particularly in local terroirs. He started off by replanting vines on just a few plots of land, then in 1980 he acquired the dilapidated château, renovating the entire thing into the perfect winemaking spot. He also took up Château Bouscassé and undertook a colossal amount of work in the vineyard and the winery for crafting fine cuvées.
When did you return to the estate?
I came back to Château Montus in 2017, it was the right moment for Alain to pass the domain on. At that time, the head grower was retiring, too, so I started by taking his place, and took on more responsibilities in the winery over time. Alain is still around to keep an eye on us and help with the big decisions. We're usually on the same page about how things should develop at the estate. It's really important that I can consult him, he's got so much experience and is incredibly precise. He still tastes the estate's wine regularly with the cellar master.
When did you first find your interest in wine?
I moved to the domain when I was ten years old, and Alain got me involved in the vineyard straight away. Coming from a fundamentally agricultural family, I've got a very strong relationship with the earth. It came naturally, we could say.
What have you been particularly interested in since your arrival at the estate?
Alain has always said that the Tannat grape deserves to be recognised as one of France's top five varieties, and he's put a lot of work into the right kind of maturation to promote it. Since I arrived, I've been really focussed on understanding our terroirs, looking into the specific character of each parcel. We then vinify the grapes separately (by plot) before blending them again. We've also been doing some high-density replanting, at 8,000 vines per hectare. Luckily, Madiran lends itself well to a natural kind of polyculture; the vines are cultivated on three hills across the appellation, each separated by woods that warn us of plant disease; cereals and grain are grown in the plains. This whole ecosystem plays a role in the quality of our viticulture. We feel really close to the environment around us and really limit the use of products in the soil.
What kind of wine do you seek to make at Château Montus? How would you define the estate's style?
We're going against the grain right now. Whilst a lot of wine is now made to be uncorked in its youth, our prized Tannat grape is a strong and robust fruit that requires quite a lot of ageing to fully evolve. All of our cuvées are matured for at least 30 months, in barriques then in foudres. This allows the Tannat to really open up, blend and reveal its potential. The vatting time is extensive, too, ranging from 30 to 45 days depending on the vintage, producing wines that are rich and full. This kind of profile calls for a good few years in the bottle before it can be uncorked and enjoyed. Alain understood straight away, though, that our cuvées needed to be ready for drinking as soon as they hit the market. We've got 4,000 square metres of storage space, which is enough to keep hold of eight vintages.
Are there any other domains or wines that have especially inspired you?
I know that Alain was really inspired by the masterful maturing process at Vega Sicilia in Spain, and I was really impressed during my last visit to Château les Carmes Haut-Brion. This is an estate with an extraordinary understanding of its terroirs, and they've figured out just how to separate their parcels in order to best bring out their nuanced character. I think that Bordeaux is way ahead of the rest of the world when it comes to precise winegrowing.
Going back to your own wines, which are your favourites?
The 2018 Château Montus is one I hold dear because it was my first vintage. It's also the result of the work undertaken to better understand our estate's terroirs. The 2018 is a fashionable vintage; cool, balanced, and ready to enjoy from now. Another favourite has to be the 2007 La Tyre. This is a cuvée made from two to four hectares of our finest vines; the plants are well-exposed on steep slopes and enjoy the freshness of high ground, a characteristic we find in the resulting cuvée. The 2007 vintage opens nicely now, promising a really enjoyable tasting moment. Having said that, it's still got a few decades of cellaring left in it!