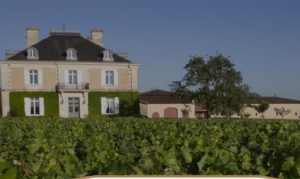 Its beginnings
The first vines were planted at Château Haut-Bailly in the 15th century and the property has passed through a number of hands since then. One of its most well-known owners is the engineer Alcide Bellot des Minières who was nicknamed the "King of winemakers" due to the remarkable scientific progress he made. He's also the person we have to thank for the château building we see today.
After several difficult decades following phylloxera, the château entered a new era in 1955 when it was bought by the Belgian wine trader Daniel Sanders. He worked to promote the wines in the United Sates of America and Asia during the 1960s and 1970s. His son, Jean, took over the running of the property and oversaw the production of over 20 top-quality vintages.
American banker Robert G. Wilmers purchased Château Haut-Bailly in 1998, but he kept in touch with the Sanders family and Véronique, David Sanders' granddaughter, now manages the domain. The technical team, led by Gabriel Vialard, is always on the hunt for new ideas to improve the quality of the terroir and the work down at the vines.
A château of excellence
The domain has gained more recognition in recent years thanks to its work respecting Bordeaux traditions which contributes to the production of harmonious and extremely balanced wines. The wines are actually cared for as they have been in the past, without any weedkillers and voluntary yield control. Since 2007, six hectares of vines have been grown according to organic methods and three of those are also biodynamic (ploughing with a horse, using organic compost, manual muckspreading and respecting the lunar calendar).
Château Haut-Bailly's 28 hectares are perfectly placed on high ground made up of gravelly soil to the east of Léognan. The slopes' gradient helps drain the rainwater and the subsoil is composed of stones and fossils. There are four hectares of very old vines (some are certainly about 100 years old) as well as various varieties: Cabernet Franc, Carménère, Merlot, Malbec, Petit Verdot and Cabernet Sauvignon.
The wines
Château Haut-Bailly 2011,2016, 2017, 2018, 2019
This deep wine reveals a complex nose, full of ripe black fruits and sweet spices with woody notes. The palate possesses an impressive roundness and concludes with a smooth finish.
Château Haut-Bailly II 2017,2019
Since 1967, La Parde de Haut-Bailly (now known as Haut-Bailly II) has been Château Haut-Bailly's second wine. It is produced in the same way as their flagship cuvée, made with grapes from the same plots. With intense and crispy black fruit aromas, it offers a supple texture and subtle, silky tannins. A real fresh fruitiness combined with a solid yet elegant structure.