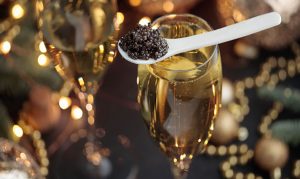 Champagne. Always the bridesmaid, never the bride. This drink might be served at a meal, but mostly as an aperitif or at best, with your dessert (a rather uninspiring tradition). Yet when it comes to pairing with food, Champagne offers a whole host of opportunities. Do let us go on…
It's true that drinking Champagne at the dinner table is different to drinking other wines. This difference arises not so much from the flavour profile (although Champagnes made from Pinot Noir or Point Meunier offer nuances you will never find in a still wine) but rather from the bubbles that play an important role in wine and food pairings. Sometimes the bubbles can be too aggressive for a certain food pairing which puts diners off opting for a Champagne. Nonetheless, there are some wonderful pairing possibilities.
Aperitifs and Starters
A lively and crystalline Champagne, such as a Blanc de Blancs or a Champagne with a low dosage (extra brut or non dosé) works well as an aperitif. Freshness and fine bubbles are what you need in this instance. Slices of cured ham, parmesan, comté, dry goats cheese, prawns, taramasalata and many more foods will work well but avoid foods that are overly salty or spicy as they will overwhelm the wine. These same styles of Champagne could also be served with fish and crustacean starters such as oysters, smoked salmon, seafood platters, sushi and fish terrine).
Foie gras mi-cuit is better suited to a more vinous Champagne such as a Blanc de Noirs or a vintage Blanc de Blancs that has a little more ripeness and power. With pan cooked foie gras, opt for a Chardonnay-led cuvée as the acidity will help cut through the fat.
The main course
Blanc de Blancs generally work well with fish-based dishes (or seafood), especially when cooked in a creamy sauce. However, the bubbles can interfere with the fish's delicate flesh when served without a dressing or sauce. You could also pair a Blanc de Blancs with poultry or white meat in a creamy sauce.
With roasted poultry, go for a more vinous Champagne made mostly (or entirely) out of Pinot Noir. A more evolved vintage would fit the bill nicely here. Try it also with a beautiful pink leg of lamb.
Cheese and dessert
Most styles of Champagnes work very well with a number of cheeses, especially cooked cheeses such as beaufort, comté, parmesan, brébis de Pyrénées but also brie and camembert provided they aren't too strong.
Desserts take a little more thought as chocolate, for example, is no friend to Champagne, neither are traditional cakes (unless you choose a doux or demi sec Champagne, although these are somewhat out of fashion at the moment and difficult to find). The best pairing would be a red fruit-based dessert with a rosé Champagne.
So, there you have it, our suggestions for what to pair with your Champagne in the hope that this mighty wine might take pride of place at your next dinner party!
See all Champagne currently on sale