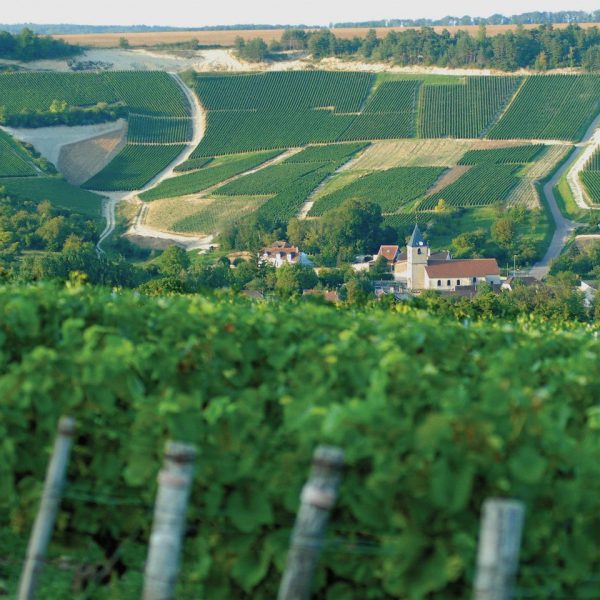 Drappier Champagnes are an emblem of Aube and a reference for all other Champagne producers. This historic family house can trace its roots back to the start of the 18th century and its Champagnes, which contain a high percentage of Pinot Noir, are known for their full bodies and character.
Let's take a trip and visit one of first partner domains, which is known for being one of the most prestigious Champagne houses in the world.
A history that goes back to 1808
This family Champagne house dates back to 1808 when Drappier first started cultivating vines in Urville. In the century that followed, Drappier became the prime mover in the introduction of Pinot Noir, a feature that defines them to this day. The celebrated Carte d'Or was first released in 1952 and in 1968, they released their rosé Champagne made entirely from Pinot Noir grapes. The Charles de Gaulles cuvée honours the famous general's fondness for this domain.
The 12th century vaulted cellars, once home to the Cistercian monks of Claivaux, are now the resting place of these illustrious wines. Michel Drappier has managed the domain since 1979, when he took over his father Michel.
A Champagne house in the heart of the Côte des Bar
The Drappier family cultivates 57 hectares of vines in Urville as well as some in the Reims Mountain, Bouzy and Ambonnay. Pinot Noir, which flourishes in this region, is the principle grape variety but some of the vines are laid out to Pinot Meunier, Chardonnay and some of the more forgotten varieties such as Arbane, Petits Meslier and Blanc Vrai (Pinot Blanc). The domain has become well known for its production of Pinot Noir dominant wines.
Another special feature of this domain is the secondary fermentation in the original bottle for all contents, from the half bottle to the very rare Primat (27 litres) and Melchizedec (30 litres). Drappier is the only domain in the world to do this. Then, the vintages ripen for many years in the cool darkness of cellars dug in chalk in the last century. Remuage or turning is still done mainly by hand.
The Drappier style is first and foremost a choice of vinification that is firmly focused on lightness and authenticity: the sulphur and sugar dosages are discreet, leaving plenty of room for the wine itself. This maison has reached the highest level and ranks among the most beautiful names of Aube and even of all Champagne. Those who love Champagne with character are particularly fond of it.
A house which cares about the environment
Drappier Champagnes became the first in the region to be certified carbon neutral in 2016. Solar panels have been installed on the roofs of buildings, producing 75% of the electricity the house requires. What is more, a certain amount of its vehicles and tractors are electric, and they have chosen bottles that are lighter than those traditionally used in Champagne.
Drappier Champagnes currently on sale
Brut Nature:
The Brut Nature is one of Drappier's great successes. 100% Pinot Noir and with no sugar added during dosage, the fruit aromas are pronounced and fresh. In the mouth it is ample and vinous with a sharpness that gives the wine great length. Precise, clean and persistent, this is a fine example of a Pinot Noir Champagne.
Brut Blanc de Blancs:
This Brut Blanc de Blancs offers aromas of white peach and pear as well as floral notes (peony). The mouth is mineral with biscuit notes.
Millésime Exception:
The Millésime Exception is the expression of a single year. Part barrel matured for one year and with a dosage of 5.6 g/l, the nose has great complexity with aromas of white fruit, almond and ginger. You'll find this same complexity in the mouth with floral and brioche notes typical of Chardonnay but also red fruit aromas from the Pinot Noir.
Quattuor Blanc de Quatre Blancs:
This Blancs de Blancs is made of four white grape varieties native to Champagne: Chardonnay (of course), Arbane, Petit Meslier and Blanc Vrai (Pinot Blanc). It stands out for its fresh grape aromas and notes of citrus and white flowers. On the palate it is mineral, elegant, sober and precise. A fine Champagne.
Réserve de l'Oenothèque Brut 2002:
This cuvée is the new version of the Carte d'Or 2002: a deep and fleshy Champagne with great complexity and fine bubbles.
Grande Sendrée 2006/2008/2010:
The Grande Sendrée is one of the flagship cuvées of this domain. It takes its name from a parcel of land covered by cinders after the fire which ravaged Urville in 1838. A spelling error having slipped through in a new version of the land register, it is with an "s" that this cuvée is designated today. It is matured for 7 years sur lattes (on laths) and has a dosage of 5g/l. On the nose it is fruit forward, demonstrating citrus, dried fruit, white flesh fruit but also beeswax, hawthorn and honey. The mouth shows good balance and a delicate minerality with notes of mandarin.
See all Drappier wines on iDealwine
See all Champagne currently on sale on iDealwine
See all wines currently on sale on iDealwine