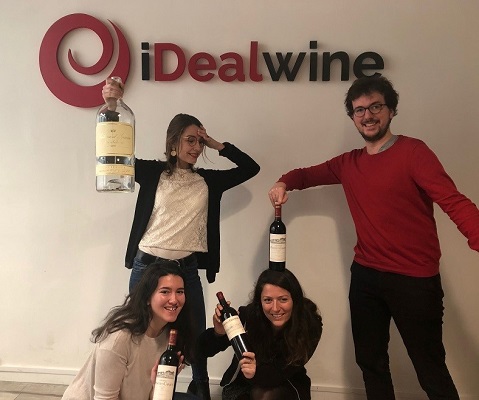 This week, we're sharing our best Bordeaux memories. Whether they are formal tastings, iDealwine wine fairs or personal experiences, here are the Bordeaux wines which have left an indelible impression on us…
Lionel (deputy general manager) wanted to share a very symbolic wine for both himself and iDealwine: Château Belle-Vue 2009. This was the last vintage produced by Vincent Mulliez, a friend of iDealwine's three founders. He passed away in 2010, and Lionel was lucky enough to taste the wine en primeur on the day of his birthday, the 9th April. A perfectly-balanced, solar wine with melted tannins and a nice freshness.
Elsa (marketing), our honorary Bordelaise proudly flies the flag for this region
Château Mouton Rothschild 1989
An excellent Bordeaux tasting memory for me was with iDealwine, at the Bordeaux Tasting wine fair. We had taken a Château Mouton Rothschild 1989 which I was lucky enough to taste. It was simply stunning: the classicism of a great Bordeaux at perfect maturity, with integrated tannins, balance, depth and a certain restraint.
Emmanuel (marketing) shares his first memory of tasting wine:
Château Sigalas Rabaud 2001
This was the first wine to leave an impression on me back when I knew nothing about wine. I was amazed, I had no idea that it was possible to make good sweet wine! Although I'm not sure it would have the same effect if I were to taste it today, it's a great memory, and represents quite literally my first taste of the world of wine!
Grace (international team) shares an iDealwine tasting moment, during a wine show in Switzerland
Domaine de Chevalier 2000 (red)
A very fond memory for me is the Domaine de Chevalier 2000 that I tasted at Matter of Taste in Zurich. It was superb, with aromas of blackcurrant and cedar, and lovely toasty notes. On the palate, it was fruity and fresh, with a velvety texture. At the grand old age of 18, it was tasting incredibly young. Very elegant (and delicious!)
Constance tells us about a wine she tasted at the wine show Grand Tasting 2017, during a private tasting for Club iDéal customers
Château d'Yquem 1997
I was already a big fan of sweet wines for their aromatic complexity and incredible aging ability. But this was simply out of this world. To taste the brightest star in Sauternes, and from an imperial to top it off, was unforgettable.
Hannah (marketing) tells us about a wine she particularly enjoyed at a recent tasting of Bordeaux wines
Château Pontet-Canet 2016
This still young wine showed a lot of promise, with a very sunny profile showing all of the finesse that the domain is known for. Delicate, with intense aromas of fruits and gentle tannins. A wonderful illustration of the work of this master of biodynamics in Bordeaux.
Angélique (deputy general manager) has very fond memories of when she took part (as a judge) in the tasting competition X-Wine, organized at Château Figeac. Angélique arrived the evening before to dine with Mrs. Manoncourt, her daughter Blandine and her granddaughter Marie. The owners very thoughtfully opened a bottle to taste blind from Angélique's birthyear. "It was a wonderful wine, with a delicate, silky texture which evoked that of a rose petal."
Baudouin (international team) reveals a recent Bordeaux which he tasted with clients
Château Rauzan Segla 2010
This is one of best memories from the past few weeks. Rauzan-Segla is a Margaux, a blend of Cabernet Sauvignon, Merlot and a touch of Cabernet Franc and Petit Verdot. The wine is balanced, with aromas of black fruits and undergrowth lifted by minty, oaky and chocolate notes. On the palate, the tannins are creamy and the texture is fantastic. 2010 is a very good vintage, with exceptional purity. I tasted this in Hong Kong, paired with dumplings and fried duck tongues… strange but very good!
Last but not least, Alva (international team), iDealwine's latest recruit shares her thoughts on a magnificent Pomerol…
Château Hosanna 2008
I tasted this with my tasting club. After aging for 10 years, this vintage began to unveil its potential. We decanted it for an hour before tasting; on the palate, it was very supple, while the nose gave off intense aromas of violet, blackcurrant and vanilla, oak notes. I enjoyed its silky, rich and intense style.