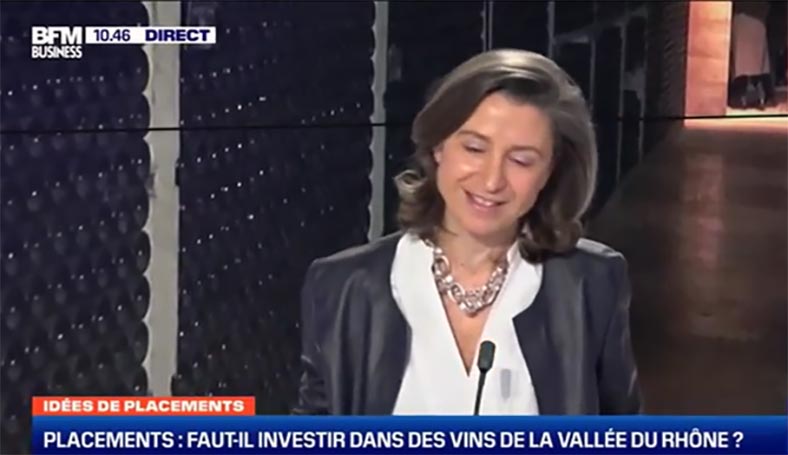 Angélique de Lencquesaing spoke on BFM's investment programme about the fine wine market, with a focus on the Rhône Valley.
We often talk about the stars of the wine world when it comes to investing, concentrating on Bordeaux and Burgundy, the latter often making the headlines. So let's have a look at a region we don't often analyse in as much depth: the Rhône Valley. From an investment point of view, it's an interesting one, right?
Precisely, the Rhône is a region that has really stood out in the opening sales of 2021. iDealwine's auction platform has already seen a record price this year for a collectors' bottle, a 1949 Hermitage La Chapelle from Maison Jaboulet which sold for €3,819 to an English buyer.
That leads me nicely to my next question about how the market has performed at the start of the year!
I can confirm now that the year has got off to a flying start in terms of auction activity. Despite expecting a generally reticent atmosphere, wine lovers are still showing up. We've seen the rate of bottles selling for more than their estimate increase hugely, and the number of bottles unsold at the end of an auction is decreasing. At the moment, when a collector sells their wines through us, 80% of bottles are sold the very first time they are put up for auction.
So Brexit hasn't caused British clients to flee?
There's been no such exodus, no. In fact, the number of purchases from UK buyers in January was 122% up on the same month of 2020, and the number of clients has gone up by 50%. Despite the finalisation of Brexit, and even though the UK market is bursting with fine, French wine, we're still seeing so much interest. Enthusiasts are seeking the kinds of rare wine that we offer at auction.
The UK is iDealwine's second largest export market, which is important to underline, as it reflects the dynamism we're observing across Europe at large; 38% of our sales in 2020 were made in Europe (outside France).
However, the question of logistics and borders has thrown a few obstacles in the way with regards to the UK. It will take a little more time to refine our methods and for the market as a whole to become fluid again. Rest assured we're on the path to a solution.
Let's go back to the Rhône, and particularly to the northern part of the region. What makes wine from here good as an investment?
Wine from the Rhône has a reputation for being powerful with good ageing potential, key criteria when it comes to investing in wine since this isn't a short-term question. Look out though, as ageing potential doesn't only apply to strong, heavy wine; certain icons actually stand out for their finesse.
Why don't we talk about the Rhône so much?
The main reason in the context of wine auctions is that the Rhône comes behind Bordeaux and Burgundy proportionally. The fight for top place for volume and value sold is always between these two.
In 2020, wines from the Rhône valley represented 12.8% of our sales in value, and 14.5% of bottles sold. At the same time, Bordeaux and Burgundy made up 2/3 of sales.
Does this mean it would be good to dedicate around 15% of an investment cellar to Rhône wines?
The proportion of wines sold at auction by region is a good indicator, but by no means a hard and fast rule. Putting together an investment cellar should mainly be about the tastes of the person in question. It's always a good idea to make choices based on your own inclinations, even if only in case the chosen bottles don't gain value as you'd hoped.
From the Rhône Valley, then, where do we begin?
If we consider the region from the very top, you should note that the Rhône is home to some truly iconic wines. From north to south, legendary names rub shoulders with smaller-scale producers, many of which deserve the attention of wine enthusiasts.
La Chappelle Hermitage being one of these icons…
That's right, but even further north we find superb appellations on both sides of the river: there's Côte-Rôtie in the north (right bank), an exciting sub-region because of how stylistically diverse the wines are. Among the absolute classics is Maison Guigal with its trio of La Turque, La Mouline, and La Landonne. In December, a 1978 bottle of Côte-Rôtie La Mouline was sold for €2,702. Another great signature is Jamet, whose 1991 Côte Brune went under the hammer for €2,517. There are also a handful of producers to be considered in the light of their up-and-coming stardom: Jean-Michel Stephan, Ogier, Rostaing, and Benetière are all making themselves known in our auctions.
Just below Côte-Rôtie there is a little appellation of just 4 hectares called Château Grillet. Only around fifty bottles from here were sold at iDealwine last year, so it's a rarity to keep an eye open for. These wines will become increasingly coveted due to the meticulous work that has been done in recent years to bring the appellation back to life.
On this same side of the river, there's the magnificent Saint-Joseph appellation, which Jean-Louis Chave has pulled into the spotlight with his world-renowned Hermitage cuvées. Among the names to cite are Gonon, Gangloff, and Coursodon, as well as natural signatures like Hirotake Ooka with Domaine La Grande Colline.
Last but not least from the right bank, we should underline the appeal of Cornas wines. This appellation has stars like Auguste Clape, Alain Voge, and Thierry Allemand. Domaine du Coulet and Domaine du Tunnel are ones to watch! We have to mention how the most coveted wines are those from eco-friendly production, even in the context of challenging growing conditions.
Let's finish off with Hermitage
Yes, Hermitage is an extraordinary appellation, brought into the limelight by Maison Jaboulet's La Chapelle wine, several vintages of which have passed the €1,000 marker (1990: €1,277, 1978: €1,228). Another important figure is Jean-Louis Chave, again, this time with the famous Cathelin cuvée which is only made in the very best years and is no longer commercialised. At auction, we only find collectors' bottles of this kind (1990: €6,140, 2000: €5,158).
This hill is home to several estates with established reputations such as Delas and Chapoutier, the latter boasting such magical parcels as le Pavillon, l'Ermite, le Méal, and l'Orée, with the finest vintages going for hammer prices exceeding €1,000. On a smaller scale, Sorrel, Faurie, and Dare et Ribo stand out. Some of these properties also cultivate vines in the neighbouring Crozes-Hermitage appellation, crafting wines that can be enjoyed a little sooner, but still of top quality, delicious, and with good ageing potential.
This is an outline of the finest that the Rhône has to offer in its northern zones. Exploring the south will have to come another time, but trust us when we say it is equally gleaming with excellent wines that should feature in the cellar of an enthusiast!
See our most recent auction reports here