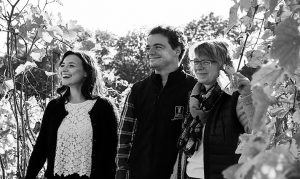 Heading south past Colmar, you will come across a family-run domain which creates brilliant wines that reflect their terroir and allows the vintage, variety and soil to shine through. This is thanks to its biodynamic methods and meticulous wine-making processes with as little intervention as possible.
A union of family plots
Located in Wettolsheim, just a stone's throw away from Colmar, the domain was formed in 1985 when François Barmès and Geneviève Buecher got married and united their family plots. Following the sudden death of François in 2011, their children Sophie and Maxime started helping their mother with the running of the domain. Under their leadership, a team of eight people work to produce wine from local varieties such as Pinot Noir, Riesling, Sylvaner, Gewurztraminer, Muscat Ottonel as well as Pinot Blancs, Pinot Gris and Pinot Auxerrois.
Terroirs with their own personalities
These varieties are spread over 17 hectares, three of which are Grand Crus –  Hengst, with its marls and limestone soil, creates powerful, sophisticated and spiced wines; Pfesigberg, whose vines sit on marl and old limestone soil, produces elegant wines that obtain iodised notes as they age; and Steingrubler, which is rich in clay, marl and limestone, bears wines for ageing that are ample, fine and beautifully balanced all at once. This array of soils can also be seen in Rosenberg, which creates wines suitable for ageing from its limestone-clay soil. In Leimental, the limestone buried in the clay soil means that the Riesling which grows here is deep and intense. Le Clos Sand produces lively and delicate wines and lies at an altitude of 350 to 400 metres on granite soil. And finally, there's Herrenweg, which creates rich and open wines from its soil full of muddy sand.
Shop all Domaine Barmès-Buecher wines available at iDealwine