Our April auction report focuses on Jura and the region's Top 20 bottles that are fought over the most at auction. These bottles come from some well-known names, rising stars and little-known producers, all of which are positioned well both in terms of quality and price (Jean-Marc Brignot, Allante Boulanger, Morgane Turlier, Maison Glandien, and others).
Is Jura aware that there is currently a financial crisis? It doesn't seem that way when we look at the region's performance in iDealwine auctions. While some of the world's most iconic wines have seen their prices stabilise or even drop ever so slightly over the past few months when compared to their peak in spring 2022, the same cannot be said about Jura's wines. What is more, new talent doesn't seem to stop cropping up in this region. Jura covers less than 2,000 hectares and its qualitative production is as valued as it is rare.
This report takes a look at both the most sought-after bottles at auction that have long been a firm favourite and those that have recently been placed in the limelight.
10 ICONIC AND/OR HISTORIC JURA WINES
ORGANIC/BIODYNAMIC/NATURAL
Pierre Overnoy, whose domain sits at the region's borders, is known as one of the fathers of natural wines, a title he shares with Marcel Lapierre.
Louis Overnoy, Pierre's father, had planted varieties that were best suited to the terroir, so when Pierre took over in 1968, he refused to use herbicides and pesticides, deciding that they do more harm than good. He saw sulphur in the same light and limited its use as much as possible at the beginning. Over the years, he attempted to make his wine as cleanly and as naturally as possible and sought education on the subject in 1975 from someone who had already mastered the process, Jules Chauvet. From 1986, he made his wines entirely without sulphur.
In 2001, Pierre Overnoy transferred the running of his domain to hi adopted son Emmanuel Houillon-Overnoy, who had been working there since 1989. The later has continued using the same philosophy and Pierre Overnoy can still be found at the domain whose wines are considered to be top-notch.
Composed of just 6.5 hectares, it obviously cannot produce enough to satisfy all the wine lovers in the world.
In April, a 500ml bottle of Pupillin Vieux Savagnin Ouillé 1997 went for €501 and a magnum of Poulsard 2012 obtained €1,515. The property's Vin Jaune is most sought-after and generally goes for more than €1,000 a bottle, but it rarely appears, even on iDealwine.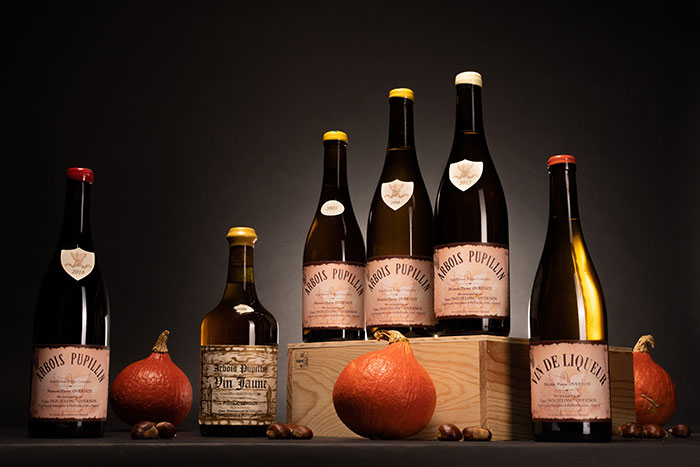 It's not the oldest domain in Jura given that it was created in 2011, but Domaine des Miroirs has end up at the top of the list of Jura's most prized domains and we now consider it to be one of the most iconic too.
Covering only 3 hectares, it's a micro-domain located in Grusse and was created by Kenjiro Kagami, a Japanese engineer who has lived in France since 2001. After training in viticulture and oenology and having worked alongside great winemakers like Thierry Allemand (Rhône) and Bruno Schueller (Alsace), he went out on his own. He cares from his vines which grow in the limestone vineyard on extremely steep slopes in the most natural way possible and employs the same philosophy in his cellar. His wines possess a style which is not easy to describe as they truly reflect the characteristics of the vintage. They tend to be crystalised and taut, rather round and rich but always with a great complexity and elegance.
Unfortunately, most of the production is sold in Japan which makes it difficult to find bottles on our website and it also increases the prices. In our April auctions, a bottle of Entre Deux Bleus Les Saugettes 2017 went under the hammer for €1,127 (a stable price) and Les Prémices Les Saugettes 2013 for €1,002 (+4%).
This is another big name from Jura that is known around the world. Jean-François Ganevat, known as "Fanfan" to his friends, took over the family domain in Rotalier in 1998. The vineyard, which stretches over 13 hectares, has been cared for using biodynamic principles since 2005. The local grape varieties are vinified in a natural way.
The wines are known for their depth, energy and precision. In April, a bottle of the fine Côtes du Jura Les Vignes de mon Père 2005 sold for €689 (+10%).
Another fairly new Jura domain (2012) is Domaine des Murmures which is the dream child of Emmanuel Lançon. The vineyard covers less than a hectare so you can understand why these wines are extremely rare. The vines are cared for using organic and biodynamic methods and the soil is worked by a horse. In the cellar, everything is done by hand, even destemming and bottling. Extraction is extremely gentle, without any punching down or pumping over, and the wines are made naturally.
In April, his Poulsard 2020 was auctioned for €501 (stable).
This is another recent domain (2011), but it joined the ranks of Jura's stars very early on. The winery is run by Adeline, sister to Emmanuel Houillon, who naturally earnt her stripes at Domaine Pierre Overnoy and Renaud, her husband, trained at Domaine Tissot. The vineyards, which are located in Pupillin, Arbois and Montigny les Arsures, cover 5 hectares. Work is carried out according to biodynamic principles and the wine is made naturally without any additives.
Last month, Les Tourillons 2018 (a blend of Chardonnay and Savagnin) obtained €376 at auction (+55%).
Labet: Brilliant wines that are still accessible
Located in the south of Jura, Domaine Labet is family run with Romain, Charline and Julien Labet at the helm. The old vines that came from massal selections offer brilliant genetic diversity and have long been grown organically.
The vines stretch over 13 hectares across roughly 45 plots and produce just as many cuvées. Most of the wines are aged on their lees in 228-litre barrels that are between 4 and 15 years old and sulphur is only added in a homoeopathic way. The high-quality wines remain relatively accessible to the happiness of wine enthusiasts.
For example, Côtes du Jura Chardonnay Lias 2019 sold for €138 (+24%) as did Côtes du Jura Fleur de Savagnin En Chalasse 2020 (+10%).
André and Mireille Tissot created this domain in Montigny-les-Arsures in 1962 and it has been run by Bénédicte and Stéphane Tissot since 1990. The vineyard covers around 50 hectares that were converted to biodynamic agriculture many years ago. The wine is made without any additives, just the smallest dash of sulphur if it is needed. The domain produces a large range of wines with their flagship, Le Clos de la Tour de Curon, being made from a plot of just 0.75 hectares.
A bottle of Arbois Chardonnay Le Clos de la Tour de Curon 2012 sold for €150 (+5%) in April.
THE GREAT CLASSICS
This is a historic Jura domain. It was, in fact, created in 1850 and is located in Château-Chalon. Since then, Jean Macle has come to be considered the father of Vin Jaune. The vineyard covers 12 hectares on steep slopes mainly planted with Chardonnay and Savagnin. Laurent Macle, the sixth generation, is at the helm today. Even though the vines are cultivated without insecticides, this is not an organic, biodynamic or natural domain, just like most other Jura stars.
This domain is particularly known for its exquisite Vin Jaunes, especially when they are mature vintages. In April, a Château Chalon 1983 was sold for €451 at auction (+26%).
M Perron: A Vins Jaune big name from Château-Chalon
Marius Perron created his domain in Voiteur after the Second World War. It is small in size, just 3 hectares, but it is one of the greatest, historic domains in Jura.
It has long been known for its production of Château Chalon, which has been considered as one of the best out there. In 1987, Marius Perron left the running of the domain to his son-in-law, Jacques Durand, and it was renamed Durand-Perron. The wines crafted by Marius Perron are now particularly sought-after collector's items.
A bottle of Château Chalon 1982 sold for €313 last month.
Another symbolic, historic Jura domain is Jacques Puffeney. Created by the man himself in the 1960s, the wines from this Montigny-les-Arsures domain are now highly collectable since a large proportion of the vineyard was sold to Marquis d'Angerville in 2014 to create Domaine du Pélican.
The domain covered less than 6 hectares which were split into about a dozen parcels. It's the domain's Vin Jaunes that are sought out and considered some of the best on the market.
A bottle of Arbois Vin Jaune 2005 went under the hammer for €238 in April (+25%).
10 UNKNOWN NAMES AND RAISING STARS (NATURAL)
Jean-Marc Brignot started out studying literature before changing to a photography course and then in the 2000s, he changed tracks again and turned to wine. Having trained in Beaujolais and Champagne, he met Pierre Overnoy, which led him to rent 5 hectares of beautiful Jura terroirs. Settled in Molamboz, close to Arbois, he produced his first vintage in 2004. However, he encountered problems when putting his wines on the market and several years of poor harvest. To overcome this, he decided to start a wine trading business with wines from different regions (Beaujolais, Burgundy, Alsace, and Ardèche) before closing this venture in 2012 to move to Japan with his wife Satomi where they opened a wine bar and planted vines. When working at the vine and in the cellar, he would employ the most natural methods and produced top quality wines.
Although this domain was not around for very long, its wines have left a mark on wine lovers and are still sought after today.
A 500ml bottle of Vin de France Trésor d'Aiglepierre – Echarde 2004 went under the hammer for €532 in April 2023.
Now here is a domain whose name has risen up the rankings with lovers of Jura's wines. Christian Allante and Matthieu Boulanger, two friends who had been working at Domaine Labet for years, created their 3-hectare domain located between Rotalier and Gizia in the south of Jura. The very old vines are planted on gentle slopes at altitudes between 250m and 450m. The domain employs biodynamic principals, and its natural wines are often aged for a long time in old barrels. The whites are generally vinified as entire bunches while the reds are destemmed by hand before being pressed slowly and gently. The wines are neither fined nor filtered and are bottled by hand.
The domain's Savagnins are extremely popular, but its other wines are also gaining enthusiasts' attention; the Chardonnay wines La Barde 2018 and Phenomaynal 2019 were sold for €200 (+23%) and €188 (+46%) respectively in April.
This is another promising winemaker. Her impressive CV includes training in viticulture and oenology and working at Domaine des Cavarodes with another one of Jura's new wave winemakers producing brilliant natural wines. She started her own domain in Marnoz in 2016, all while continuing to work at Domaine des Cavarodes. She eventually left that position in 2021. Her vineyard measures about two hectares in size and is worked in the most natural way possible with the soils being worked by horses. Sulphur and copper are only used there in homoeopathic doses. In the cellar, the wines are made naturally without any additives, not even a little sulphur and the wines are neither fined nor filtered.
In April, her Pangea 2021 sold for €225 (+14%) and Trousseau en Vignole 2018 for €213 (+141%).
Now this is a wine trading company that you should know. It's the trading business attached to the Burgundian domain, Les Jardins Vivants, which is just 1.5 hectares in size. It's run by Tino Kuban in Meursault and was once called Domaine de Bernard van Berg. It vinifies grapes from Burgundy, Beaujolais, Alsace and Jura. The winemaker has spent time at a number of star natural wineries – Domaine de la Tournelle in 2016, Domaine Pierre Overnoy in 2016 and 2017, Domaine Philippe Bornard in 2016 and 2017 and Dard & Ribo in 2016 and 2017 as well as several domains in New Zealand such as Felton Road. The yields are absolutely tiny (about 10hl/ha), and the wines are all made using natural methods.
The Ouverture 2019 cuvée sold at auction for €501 and La Leux 2021 for €501 in April.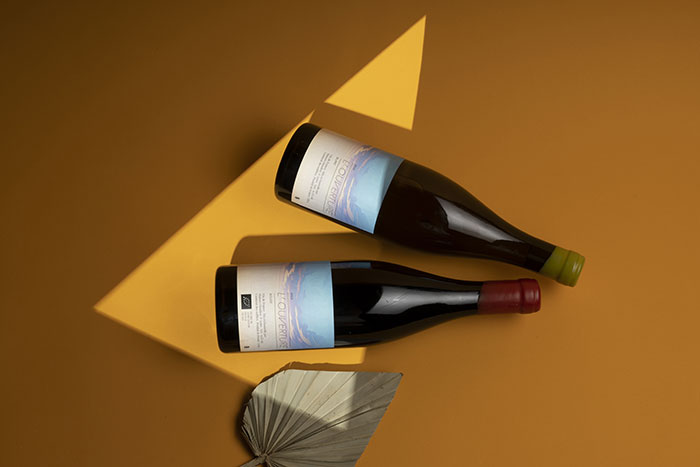 This young former gardener from Jura was trained by Jean Macle and Ganevat before starting his own domain in 2015 with only one hectare of wines in the Etoile appellation. Today, the domain amounts to six hectares. With the vines being cared for biodynamically, the natural wines are made without any additives or pushing down or pumping over and matured for a long time.
Last month, his Poulsard Les Chazaux 2020 sold for €263 and his Chardonnay Les Chazaux 2019 for €200.
Maison Maenad: When a Canadian passionate about natural wines moves to Jura
Created in 2019 by Katie Worobeck, a Canadian originally from Ottawa who arrived in France in 2017 and train at Ganevat after experiences on the other side of the Atlantic and in South Africa, this domain started life with only half a hectare of vines in Les Varrons before steadily growing. It produces wines from its own grapes as well as those bought from other vineyards. With the vines being cared for organically, the wines are all made naturally.
The Côtes du Jura De l'Avant Les Varrons 2020 cuvée went under the hammer for €175 (+69%) in April.
The small domain is also one of the most sought-after from Jura nowadays. Thomas Poppy started working in Beaujolais, where he originally comes from, at Lapalu and Julie Balagny, before working at Pierre Overnoy, Michel Guignier and La Ferme des 7 Lunes. That's one impressive CV! He set up base in Jura in 2015 after he bought some plots from Etienne Thiebaud (Domaine des Cavarodes). His domain has since grown to two hectares, but his production remains limited. Work at the vines and in the cellar is conducted in the most natural way possible and his wines are very successful.
In April, his Clos Bareth 2018 and Ryôkan 2018 both sold for €150 at auction.
This is another young winemaker that was trained at Ganevat and also worked at Domaine Histoire d'Enfer (in the Valais). He runs a 2-hectare domain in the south of Jura where he employs organic practices and, in the cellar, everything is left to nature.
The domain's first vintages – Alexandre only started in 2019 – are top quality and are already loved. Certainly, a winemaker to follow!
A bottle of La Massette 2020 sold for €88 last month.
Created in 2007 by Étienne Thiébaud thanks to a crowd-funding campaign, this domain goes from Sud d'Arbois up to Nord d'Arc and Senans. It is older than many of the new names present here, and Étienne has even trained some of them. Old vines, some are even over 115 years old, can mainly be found in the vineyard. Work there is carried out according to the Luna calendar and the soil is worked. With the vines being cared for organically, the wines are made naturally.
A bottle of Côtes du Jura Ostrea Virgula 2019 was auctioned for €65 in April.
François Rousset-Martin moved to Nevy-sur-Seille in 2007 after changing his profession. Training in oenology, he first worked in Beaune and Dijon. He later moved to Jura where his family is from and created his own domain, working with local cooperatives at first. The vineyards cover 10 hectares, mainly in Château-Chalon, and he uses both organic and biodynamic methods. In the cellar, he crafts his natural wines without any added sulphites. His wines feature among Jura's safe bets and can be found in top restaurants.
Last month, his Côtes-du-Jura La Veine Bleue de Bacchus 2017 sold for €75 (+36%), but it's his Vins Jaunes that are most sought after and sell for over €200 at auction.