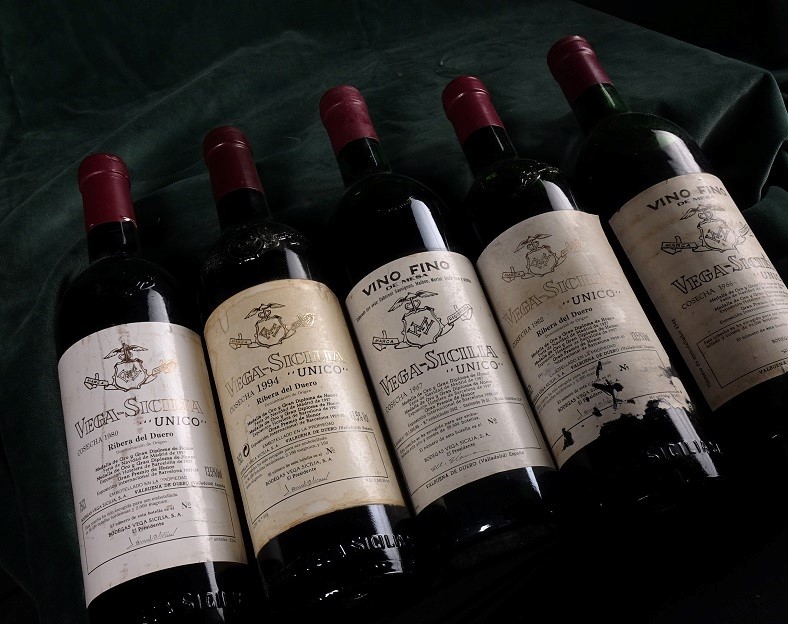 Bordeaux: growth for lesser vintages
Yet again, the most prestigious wines of Bordeaux performed well. This time round, wine enthusiasts set their sights on the 'lesser' vintages of Bordeaux, those years that aren't quite as lauded by critics. Two bottles of 2007 Petrus thus sold at €4,134 (€2,128 a bottle, +16%), while a 1994 Petrus saw the same growth, with a final price of €1,763. Still on the Right Bank, a case of 12 bottles of Château Cheval Blanc sold for €3,599 (€300/bottle, +12%).
The classed growths of Médoc also performed well. Wines from Château Latour are still very sought-after, given that far fewer wines are seen for sale. 12 bottles of 2002 Latour thus sold for €5,837 (€486/bottle, +25%), while 12 bottles of the 1993 vintage went for €4,572 (€401/bottle, +25%). In parallel, 12 bottles of Château Palmer 1999 were bought by a professional in Hong Kong. Château Palmer actually has a reputation for managing particularly well during 'lesser' vintages, and so this 1999 was awarded 94/100 by Wine Advocate (Parker). In the Graves region, Château Haut Brion continues its upward trajectory, with 12 bottles of the 2002 going under the hammer for €3,648 (€304/bottle, +5%).
Concomitant to this quest for lesser vintages – sold at more affordable prices – is the search for those vintages of the century, bottles which become collectable, and thus a Château Haut-Brion 1989 sold for €1,824 (+15%), a Château Latour 1961 was snapped up by an Austrian enthusiast for €4,256 (+9%). 1961 is an exceptionally rare, excellent vintage as minute quantities were produced but of outstanding quality. Haut-Brion 1989 and Château Latour 1961 had, what's more, been awarded the legendary 100/100 points by Robert Parker. Last but not least, a Mouton-Rothschild 2000 sold for just under €2,000 (+20%).
Burgundy: Côte de Nuits reds, Côte de Beaune whites, crème de la crème
We'll begin by analysing the most expensive wine sold this month, a Musigny 1989 from Roumier. Only between 300 and 400 bottles of this exceptional cuvée are produced every year, making it one of Burgundy's rarest wines. It continues to fetch prices reaching the €10,000 mark. Another of Burgundy's grands crus is La Tâche, a monopole owned by DRC, is stable and continues to sell for around €3,000, as April's bids show: La Tâche 2006 (€3,830, +4%), La Tâche 1995 (€2,938, +3%). We have seen the value of the 1980 vintage soar (€3,526, +76%). Musigny Grand Cru is also decidedly sought after, Mugnier's 2005 (€2,432, +35%) is an apt illustration of this search for rarity.
On the Côte de Beaune, domain Coche-Dury's Corton-Charlemagne is close to reaching the €5,000 threshold, with a 2005 going under the hammer for €4,620 (+3%). Domaine Leflaive's Chevalier-Montrachet exceeded the symbolic threshold of €1,000 for a magnum: two magnums from 1987 sold for €2,128 (€1,064/magnum, +46%). The Meursault appellation has been attracting much attention with, for instance, a Meursault Les Perrières 2010 from Coche-Dury selling for €2,130 (+9%) or the star of Meursault, Domaine d'Auvenay and its 1999 (€2,675, +46%), 2004 (€1,885, +34%), and 2003 (€882, +190%) vintages.
Rhône Valley, all eyes North
In the Rhône Valley, Côte-Rôtie stands out, gaining incredible value, particularly unique bottles such as Guigal's La Landonne 1978 (€2,154, +17%), 1978 was in fact the first vintage produced. Other Côte-Rôtie from Guigal are performing well, such as La Mouline 1976 (€2,128, +102%) awarded 100/100 by Parker. Jamet's Côte-Rôtie have achieved excellent results, with 1991 doing particularly well: €1,234, +196%. Still in the north, Cornas has also performed, particularly Thierry Allemand's cuvée sans soufre. Three bottles of the 1999 vintage were snapped up by buyers in the US for €1,885 (€628/bottle, +545%) and three bottles of 2001 sold for €1,459 (€486/bottle, +472%), once again to enthusiasts in the New World. In the southern Rhône, Henri Bonneau's Châteauneuf-du-Pape performed well: his 1990 Cuvée Spéciale went for €1,374 (+25%).
In other regions
In Champagne, Taittinger's Comtes de Champagne obtained excellent results, particularly for old vintages. Two 1976 sold for €1,837 (€937/bottle, +44%) and a magnum of 1983 sold at €511 (+75%).
In the Loire, very mature vintages of Clos Rougeard continue to grow in value, as the following results show: Saumur-Champigny Le Bourg 1989 (€973, +17%) and 1990 (€924, +54%). The reputation of domain Charles Joguet goes beyond national borders: its 1989 Chinon Clos de la Dioterie sold for €243 (+67%) to one lucky Finnish bidder.       
In Alsace, Clos-Sainte-Hune continues to make waves: a 1995 from domain Trimbach sold for €323 (+75%). In the Jura, Overnoy's vins jaunes are maintaining their value, with an Arbois 1990 selling for €1,763 (+4%).
Further afield, Egon Muller's wines certainly stand out. His Riesling Scharzhofberger TBA 2010 sold for €7,296 to a Hong Kong wine enthusiast. In Spain, old vintages of Vega Sicilia are attracting interest; the Unico 1962 sold for €584, a Unico 1966 for €353 (+13%) and Unico 1980 for €268 (+44%).