As seen in many industries of late, the world of wine is undergoing a slow but certain reckoning in terms of its reputation as a dominantly male realm. The realities and consequences of this detrimental culture are being brought into the harsh light of day as more women speak with nuance of their experience in the drinks business. From rugged vineyard to five-star restaurant, and from Instagram feed to broadsheet press, the visibility of female contribution to wine is advancing in an unstoppable wave. And the industry, long littered with obstacles to equality, is flourishing as this influence continues to grow…a long-awaited development that hasn't come easy.
If you're looking forward to a time when it's no longer notable to see a woman at the helm of a thriving venture, whatever the sector, you're certainly not the only one. Persistent attitudes and challenges, however, mean that there is still great value in highlighting the work of women who are leaving their innovative mark on the world. So here's a little nod to some of our partner domains that are managed by talented and engaged women – what they do is remarkable, and we appreciate their work enormously.
Let's start with Burgundy, emblematic wine-making region par excellence, and a place so steeped in tradition that we might be less inclined to associate it with female producers. However, the Burgundian tide is turning, and there are more women planting the seed of their talent in this most prestigious of French vineyards. Lalou Bize-Leroy, from Domaine Leroy, is the perfect example of this. Heading up the estate that dates back to 1868, she rules the roost with a masterful hand, producing wines according to her committed philosophy of biodynamics. Hearing her talk about her work, it's clear that she lives and breathes her vineyards with a deeply rooted passion for the earth and the wine it provides. In her search for harmony with the universe, she has created a viticultural masterpiece.
In the same vein, Anne Gros seeks to produce wine in an eco-friendly fashion, in part by dedicating herself to the land of her Vosne-Romanée, Chambolle-Musigny and Vougeot terroirs. She is continually striving to craft wines that are yet more precise and expressive. She has succeeded in convincing the nay-sayers of her solo management capabilities, and this since she took over the property at the age of just 25! Fanny Sabre was also quite young when she produced her first cuvées in Pommard. Her wines are characterised by their incredibly delicate profile, the result of particularly attentive growing and vinification. In our network, you'll also find superb cuvées from the likes of Stéphanie Colinot, Chantal Remy and Anne Boisson, all equally impassioned by the marvels the Burgundian land can bring.
Of course, it isn't just in Burgundy that female wine makers have broken through! Elodie Balme cultivates 17 hectares of various regional grape varieties on her terroirs, managing a domain that is undoubtedly a rising star of the Rhône Valley. Agathe Bursin, another gifted young wine maker, produces the lightest of Rieslings in Alsace, and Virginie Joly is gradually taking charge of La Coulée de Serrant, a legendary and one-of-a-kind domain in the Loire. Travelling a little further, more specifically to Corsica, we find Domaine Giudicelli, where Muriel crafts racy wines in the image of her terroir with inexhaustible energy.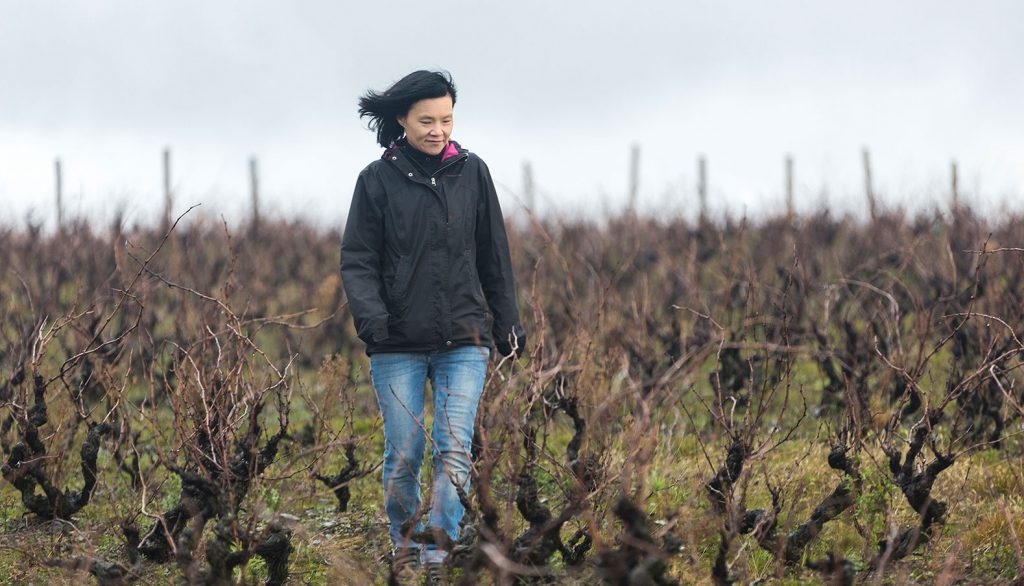 Last but not least, we have the exceptional figure of Mee Godard. Originally from South Korea, and having followed a wonderfully original path, this winemaker studied for degrees in biology, biochemistry, and oenology in France. She then got her hands on a few hectares of vines in Beaujolais, a region she was drawn to for the beauty of its landscapes. And there's no doubt at all that Mee, like the other women cited here, is bound to go far.
If the increased presence of women in the world of wine represents several, big steps in the right direction, it remains the case that this progress is slow, especially compared to other sectors – and this is why we're happy to highlight the superb contributions to this movement whenever we have the chance. That said, whilst International Women's Day is a time to reflect on the obstacles still faced by women, it is also an occasion to celebrate the searing success of those who are forging their own path, pursuing their passion, and inspiring those to come. So let's reject any doubts we've inherited about a woman's capacity to hold her own in the wine industry. Let's forget the idea that a wine can be 'feminine' in character. And let's give these women the merit they deserve as makers of fine wine. The history they're in the process of building goes much further than the sublime contents of their cuvées.
Happy International Women's Day from iDealwine 😊