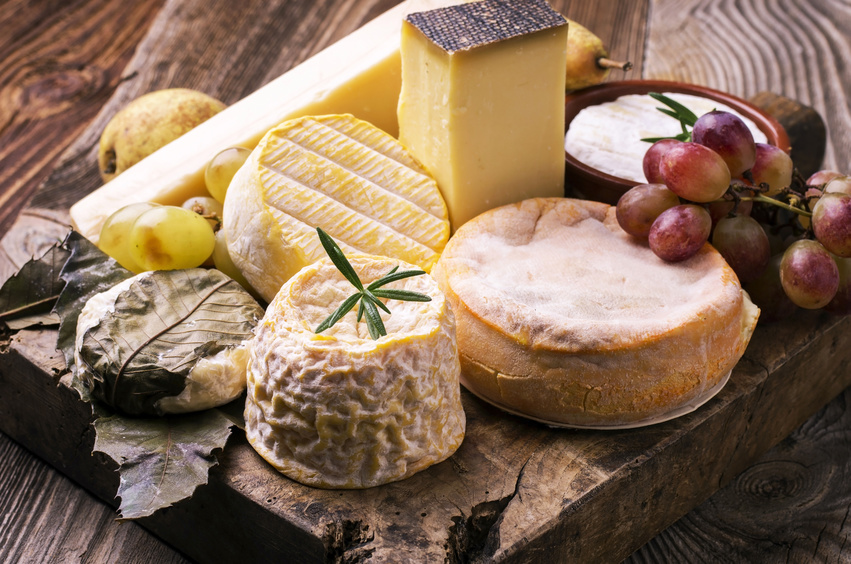 What kind of wine should you serve with cheese? This is a quintessentially French question, and one to which there is clearly no single answer, but a whole palette of occasionally subtle pairings. It all depends on the type of cheese you've chosen.
"I've brought out a Bordeaux grand cru to accompany my fantastic unpasteurised Camembert, I think you'll enjoy it!" Like all caricatures, this image of France as the land of berets, baguettes, Camembert and red wine is firmly entrenched. However, wine enthusiasts are now all too well aware that these two national symbols (Camembert and red wine) really do not go together at all, as virtually all red wines have the same bitter, metallic taste with this cheese.
This is a pity, as life seemed simpler back in the day – a good red wine with cheese was a sure-fire bet! Now things are more complicated and will require some thought! Lastly, a cheeseboard is a meal in itself and there is a major wine family for every family of cheeses. The combinations to consider (and the wines to serve with them) will be almost as varied as when serving a fish with cream sauce or roast beef with cep mushrooms.
Let's look at these pairings by cheese family.
Fresh cheeses
These don't have a rind, haven't undergone any ripening at all and can be eaten immediately as a savoury cheese (sometimes with herbs or other condiments) or sweetened. Examples: fromage frais, curd cheese, fresh goat cheese, Mozzarella, Feta, etc.
Let's look at savoury versions to pair with wine. Serve with very dry whites which are not too lively and relatively simple: white Burgundy, Burgundy Aligoté, Savoie wine with a Jacquère grape variety (Chignin, Apremont, Les Abymes, Montmélian, Cruet), and Petit-Chablis.
Soft cheeses with a bloomy rind
As the cheese ripens, a thin layer of mould known as "bloom" forms. The cheese becomes soft and creamy as a white, felty rind develops. Examples: Camembert, different types of Brie (Meaux, Melun), Coulommiers, Brillat-Savarin, Chaource, Neufchâtel, etc.
These are without a doubt the hardest type of cheese to pair with wine. It is often easier to match them if some of the rind is removed. A safe bet is a dry white which is not too aromatic (similar to those recommended for fresh cheeses). The best pairing is probably a lightly dosed or undosed Champagne (we leave the effect of a combination of sugar and Camembert to your imagination), preferably with a Chardonnay base or a high proportion of Chardonnay grape. If you really hanker after a red, choose a light wine made from Gamay grapes (a Beaujolais which is not too strong), or a non-woody red Sancerre.
Soft cheeses with a washed rind
These cheeses are washed in brine during the ripening process and are then brushed to trigger the fermentation of the rind. This gives them a reddish-orange colour which helps them to develop a taste and smell which is often powerful. Examples: Époisses, Munster, Livarot, Pont-l'Évêque, Langres, Maroilles, etc.
This is another family of cheeses which are difficult to pair with wine. However, you can try very diverse pairings with wines that share a common feature: a powerful structure and flavour. This is why in some circumstances you can opt for slightly more "gutsy" reds such as Burgundy grands crus or a Côte-Rôtie, which is probably slightly less powerful with Pont-l'Évêque. However, you could also try some more daring combinations such as a sweet wine (in which the sugar has softened with cellaring) which has good acidity (Chenins from the Loire for example, or late harvest Alsace Rieslings). This is a good pairing option with Munster or Époisses in particular.
Blue cheeses
The distinctive characteristic of these cheeses is that they are pierced with needles during ripening. This facilitates the growth of blue mould which creates veining in the cheese. Examples: Roquefort, Bleu de Gex, Fourme d'Ambert, Bleu d'Auvergne, etc.
Red wines should be avoided as they do not go very well with the taste of mould. By contrast, all types of white wine are acceptable. It is now common knowledge that Roquefort and sweet wine have virtually become the classic combination, and deservedly so! It might be wise to avoid wines which are too sweet and too heavy due to the natural fat content of the cheese. A less well-known pairing is with fortified sweet wines such as Maury, Rivesaltes, Banyuls, or Port, with the proviso that you select the "vintage" or "rimage" versions, which have not been subjected to oxidative ageing. If you prefer to stick to dry wines, try a powerful wine such as a white Châteauneuf, or a structured white from the Roussillon (e.g. Gauby grande cuvée wines).
Uncooked pressed cheeses
This category of cheeses comprises the largest number of varieties. These cheeses are mechanically pressed before or after being placed in moulds, and are also salted by immersion in brine or by rubbing. The curd is  never heated to more than 50°C. Examples: Reblochon, Saint-Nectaire, Mimolette, Cantal, Salers, Brebis des Pyrénées, etc.
This is such a diverse family that it probably requires the most highly tailored approach to each cheese. Saint-Nectaire, Cantal, Salers and Mimolette can all be grouped together. These cheeses fall into a category which work best with red wine as long as the wine selected is not too woody or tannic. Our tips include a structured Beaujolais or red from the Loire. However, white wines also work well, particularly those from the Roussillon and the northern and southern Rhône. Mimolette also works well with a fine fairly robust Champagne. Reblochon is a good match with very dry white wines which are not too lively and relatively simple such as those listed for fresh cheeses: Jacquère-based Savoie wine, white Burgundy, Burgundy Aligoté or a generic Chablis. Similar pairings are appropriate for ewes' milk Tome cheeses from the Pyrenees, but their drier texture also works well with a slightly wider palette of whites such as a dry Jurançon, Irouléguy, Savoie Chignin-Bergeron, or even a medium dry Loire wine.
Pressed cooked cheeses
With these hard cheeses, the curd is cooked at a temperature in excess of 50°C, so that the cheeses keep longer. The curd is then pressed for a long time to expel as much moisture as possible in order to obtain a very firm texture. These cheeses are traditionally made in the mountains during the summer then brought down to the valley in winter. Examples: Comté, Abondance, Beaufort, Gruyère, Emmental, Tomme de Savoie, etc.

Pairing depends a great deal on the age or ripeness of the cheese. With young cheeses, opt for dry white Burgundies (generic or "villages"), Savoie wines made from Jacquère grapes, Chardonnays from Jura (Arbois or Côtes du Jura), Savagnin ouillé wines, and northern Rhône whites. For more highly ripened cheeses, you can serve stronger wines which are fairly oxydative such as yellow wines from the Jura which are an iconic pairing with a mature Comté. Looking beyond France, why not consider a very dry Jerez sherry. With a Beaufort, Gruyère or Abondance, opt instead for a good Burgundy, a powerful Chardonnay from Jura, or a Chignin-Bergeron. For all of these cheeses, a good Champagne which is lightly dosed or undosed would also be a fine pairing with the added bonus of a touch of novelty!
Goat cheeses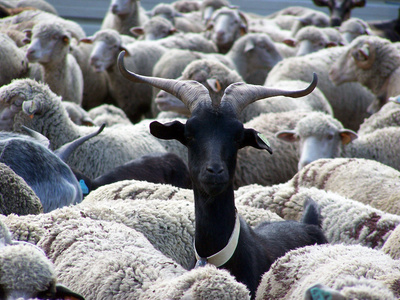 These cheeses, which contain a minimum of 50% goat's milk, have a delicate white texture which is both dense and creamy. Depending on the manufacturing and ripening process, the texture can be slightly sticky or sometimes dry. The rind can be ashy, natural or bloomy and the cheeses come in a variety of shapes: rings, logs or pyramids. Examples: Rocamadour, Pouligny-Saint-Pierre, Valençay, Sainte-Maure, Crottin de Chavignol, Picodon, Pélardon, etc.
If the cheeses are fresh or very fresh, refer back to the first family of cheeses and add simple cuvées of Vouvray and Montlouis, Chablis or Sancerre. For more mature cheeses, opt for very dry, slightly fruity white wines such as all Loire Chenin Blanc appellations, Sancerre, white Bordeaux, very dry Alsace Riesling, Chablis premier cru, or a dry Jurançon.
To sum up, if you have a cheeseboard with several types of cheese and you only want to serve one wine, opt for a white wine and select one which works with most of them, such as Chardonnay which is not too woody from Burgundy, a northern Rhône from Saint-Joseph or Crozes-Hermitage, a white Bordeaux without too much Sauvignon or a Blanc de Blancs Champagne which is lightly dosed or undosed.
See all wines currently on sale
Browse our Christmas selection